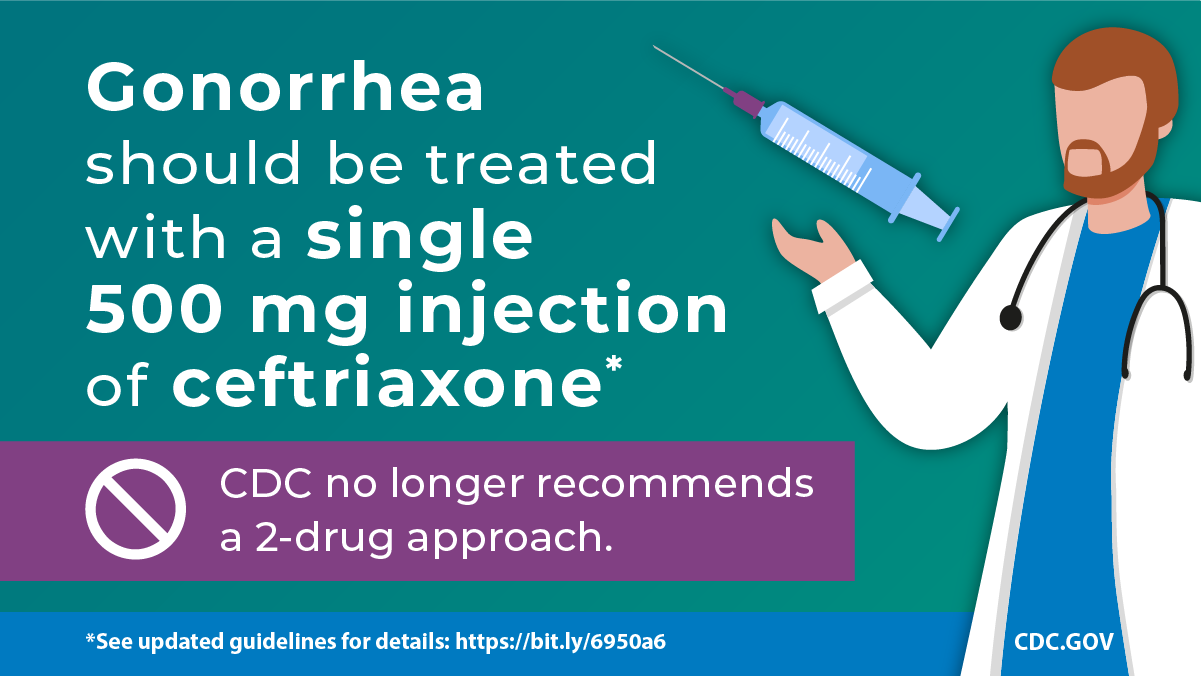 CDC has updated its recommendation for the treatment of uncomplicated gonorrhea in adults. Gonorrhea should now be treated with just one higher dose (500 mg) injection of ceftriaxone, and dual therapy is no longer the recommended approach.
CDC previously recommended a two-drug regimen of the injectable ceftriaxone and oral azithromycin for uncomplicated gonorrhea. However, CDC recently reevaluated this recommendation due to increasing concern for antimicrobial stewardship, the continued low rates of ceftriaxone resistance, and changes in azithromycin susceptibility in gonorrhea isolates in the United States. The first U.S. case of Neisseria gonorrhoeae harboring emerging mosaic penA60 allele, conferring reduced susceptibility to cefixime and ceftriaxone, was discovered in November 2019 and reported in a December 2020 MMWR from CDC.
The changes, summarized briefly below, are available in the recently published Update to CDC's Treatment Guidelines for Gonococcal Infection, 2020:
Treat gonorrhea with a single 500 mg injection of ceftriaxone.
A test-of-cure is not needed for people who receive a diagnosis of uncomplicated urogenital or rectal gonorrhea unless symptoms persist; however, a test-of-cure is recommended in people with pharyngeal gonorrhea 7–14 days after initial treatment, regardless of regimen.
Patients who have been treated for gonorrhea should be retested three months after treatment to ensure there is no reinfection.
As always, facilitate partner testing and treatment.
Gonorrhea is still treatable in the United States, but drug-resistant gonorrhea remains an urgent public health threat. Half of all gonorrhea infections reported each year demonstrate resistance or developing resistance to at least one antibiotic, and ceftriaxone is in the last recommended effective class of antibiotics used to treat this common infection.

Providers can learn more about the updated treatment guidelines at CDC.gov.
Downloadable graphics are available below to help share the new recommendations with your networks.
Twitter/Facebook 1 (checklist)
Twitter/Facebook 2 (injection)