By Bree Allen, MPH, SHINE Fellow, Office of Health IT, Minnesota Department of Health; Karen Soderberg, MS, Research Scientist, Office of Health IT, Minnesota Department of Health; and Marty Laventure, PhD, Director, Office of Health IT, Minnesota Department of Health
This article is a supplement to the Spring 2017 issue of NACCHO Exchange, which focuses on how local health departments are implementing the concepts of Public Health 3.0 to improve population health. NACCHO thanks the authors for their important contributions. To download the issue, visit http://eweb.naccho.org/prd/?na753pdf and create or log into your MyNACCHO account.
Introduction
Public Health 3.0 (PH3.0) calls for local public health to lead the way in leveraging cross-sector data to address community health needs, especially around social determinants of health.1 In Minnesota, many communities have been meeting this call to action by collaborating across clinical care and local public health to mobilize data into knowledge and ultimately improve the health of all people in their communities (see Figure 1). These activities have been spurred not just by PH3.0, but also by health reform efforts that encourage community-wide engagement in health and Minnesota's Accountable Health Model.
Figure 1. Using Informatics to Improve Public Health Practice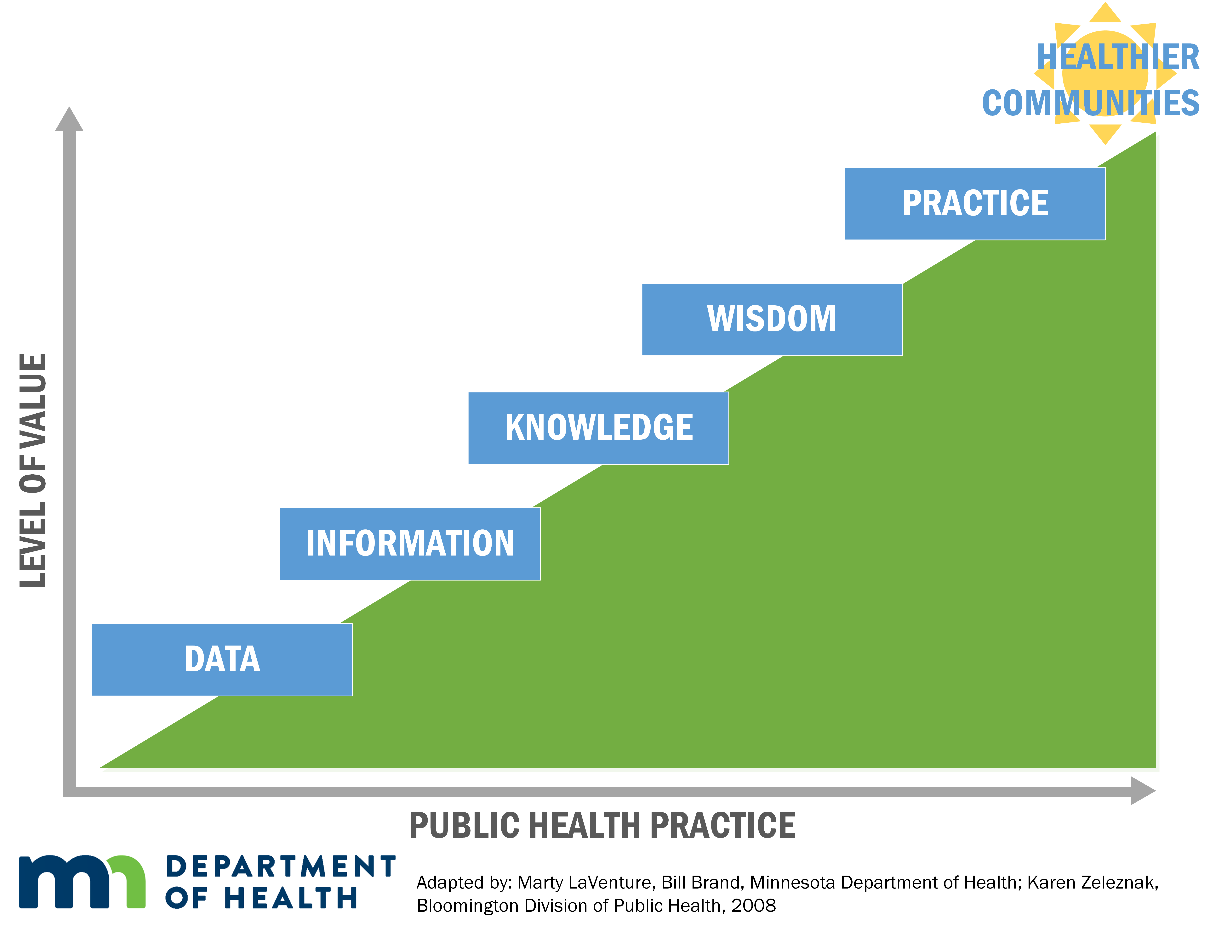 Historically, community health needs have often been surveilled using population-based surveys. Minnesota's local health departments have struggled to receive timely population health data provided by these surveys and similar estimation sources. Additionally, traditional surveillance resources face challenges including low response rates, inadequate representation from all population groups, limited local area estimation and chronic disease information, and a lag from data collection to availability of data. These local health departments range broadly in size, geography, and data/informatics resources. They are decentralized and independent of the state health agency, and very few provide direct clinical care services.
Some local health departments have explored, in partnership with their local healthcare providers, the use of data housed within electronic health record (EHR) systems. This partnership is largely fueled by the common need to develop actionable, outcomes-oriented, and collaborative population health assessments, and enabled by near-universal adoption of EHR systems among Minnesota's hospitals and clinics. Most Minnesota hospitals complete a community health needs assessment (CHNA) every three years, and local public health is required to generate a community health assessment (CHA) at least every five years.
Opportunities and Challenges
EHR data have the opportunity to play a large role in supporting population health activities beyond the boundaries of a health organization's patient population. EHR data have the potential to provide timely and complete data for subpopulations, geographic areas, and health conditions that are typically underrepresented in traditional assessment methods. Additionally, EHR system adoption is high in Minnesota clinics (98%) and hospitals (100%), and therefore can serve as a robust local information source.
Despite these opportunities, many communities in Minnesota face challenges to using EHR data. First and foremost is a resource issue, ranging from limited staff availability to limited capacity for data analysis. In small communities, the healthcare providers have similar resource issues. EHR data also tend to have inconsistent data quality and incomplete population coverage (i.e., only those seeking care). Finally, sharing data across organizations poses legal challenges associated with data-sharing agreements and ensuring data privacy protections.
There is still great potential for information derived from EHRs to benefit the health of populations. By working together to understand how these data can describe population health, communities can develop strategies that can "move the needle" toward real health outcomes to carry PH3.0 forward.
Collaborations
A number of collaborations among partners including local public health departments, providers, and health plans have developed in Minnesota for the purpose of using EHR data to develop actionable, outcomes-oriented, and collaborative population health assessments. Two are described in this paper.
The Center for Community Health (CCH) is a seven-county metro area collaboration among public health agencies, health plans, and providers. Their mission is to align the population health assessment process across the participating Minnesota metro region, address priority issues via collaborative action plans, and increase overall organizational effectiveness. Under the guidance of this collaborative, a local provider and three local public health departments collaborated to pilot the use of EHR data to enhance general health surveillance. The partnership established data definitions and rules around an initial set of variables that align with population health measures, including percentage of patients who were overweight or obese and percentage of patients who used tobacco. The pilot allowed the collaborative to identify and map individuals with high health needs, including patients that have had repeated inpatient and emergency department visits. Pilot barriers included identifying staff and resources to assign to this new work, addressing data quality issues, and interpreting the data.
The Public/Private Health Informatics Collaborative (PPHIC) is a partnership among multiple local public health departments within Hennepin County, Minnesota's largest county serving 1.2 million people, and providers serving the county's geography. The project's aim is to share EHR data from these providers, specifically around non-reportable diseases and conditions (e.g., diabetes), to produce timely estimates of health status indicators to support program and policy evaluation. The project vision was a result of partnerships established in the Hennepin County Community Health Improvement Plan (CHIP) started in 2011. Additionally, sharply declining response rates in traditional public health surveillance methods spurred action.
Because multiple health systems are involved in this collaborative, a common data dictionary needed to be established. PPHIC made sure selected variables aligned with the Centers for Disease Control and Prevention's reporting requirements and standard public health reporting, when applicable. Despite widely used interoperability data standards, there is variation in EHR data between systems and EHR vendors. To ensure comparability between variables, the collaborative created a crosswalk elaborating how data are stored and collected by provider. This crosswalk was used to establish a common definition of variables; for example, race/ethnicity and tobacco user (see Figure 2). PPHIC's approach involves sharing data and consolidating it into a single repository managed by Hennepin County Public Health Department, with patient identity and health system de-identified. The collaborative is currently working to get all data-sharing agreements signed before acquiring a limited data set from each provider and assessing the EHR data quality.
Figure 2. Example variable crosswalk by provider
Discussion
This paper describes two active collaborations that are focused on using EHR data to improve population health and develop actionable population health assessments. Additional promising cross-sector collaboration exists around the state among public health, hospitals and health systems, and health plans. Some of these collaborations involve data sharing, and some are based on aggregated reports from health providers. Regardless of how the information is shared, both CCH and PPHIC have demonstrated the importance of leveraging cross-sector data to address community health needs. Specifically, both collaboratives have established consensus on defining health indicators to align with required reporting to develop streamlined and actionable population health assessments. Furthermore, the lessons learned by these collaboratives can support all of Minnesota's communities as they explore opportunities to develop their local collaborations.
Best practices and lessons learned will be shared publicly in the form of a toolkit assembled by a project team at the Minnesota Department of Health, including definitions for EHR-extracted data, data-sharing agreement templates, EHR data evaluation techniques, and strategies for understanding data limitations. Readers can request this resources by e-mailing Bree Allen at [email protected].
References
DeSalvo, K. B., O'Carroll, P. W., Koo, D., Auerbach, J. M., & Monroe, J. A. (2016). Public Health 3.0: Time for an upgrade. American Journal of Public Health, 106(4), 621-622.