Today, Centers for Disease Prevention and Control (CDC) released Sexually Transmitted Infections (STI) Treatment Guidelines, 2021 in
Morbidity and Mortality Weekly Report (MMWR). The guidelines were updated by CDC in consultation with professionals knowledgeable in the field of STIs. They provide current evidence-based diagnostic, management, and treatment recommendations and replace the previous 2015 guidance. Physicians and other providers can use the guidelines to provide STI prevention and care for patients at risk for or who have STIs.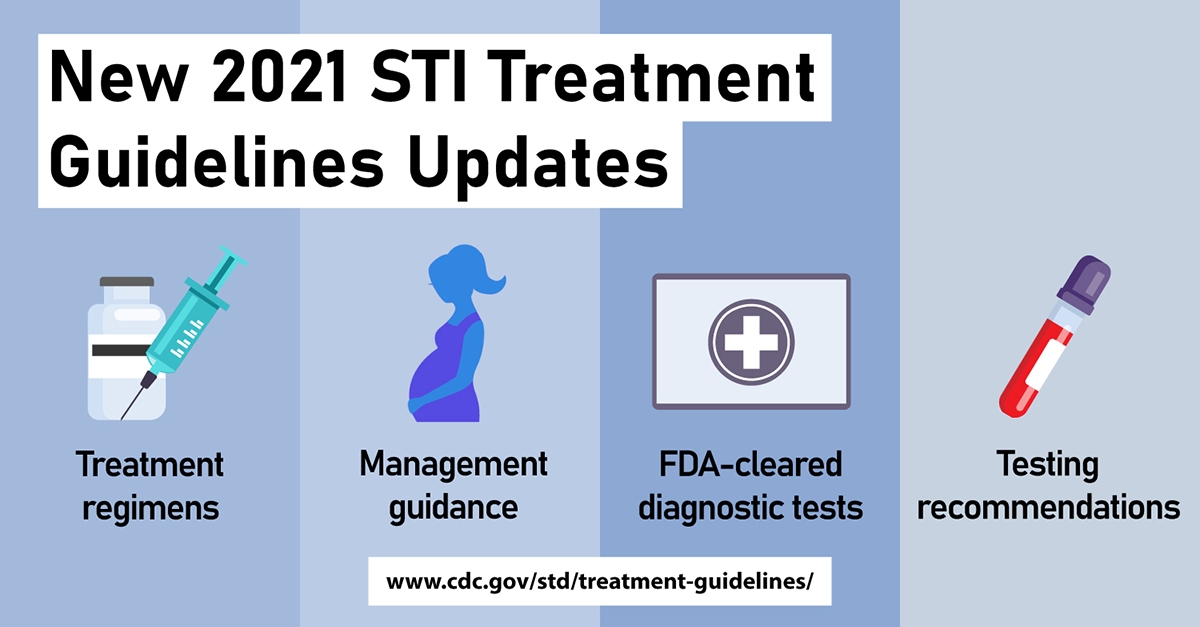 CDC shifted the title of this document from "STD" to "STI" to adequately reflect the broad nature of this guidance. The term "STI" encompasses different infections and clinical syndromes caused by pathogens that can be acquired and transmitted through sexual activity, and not just the diseases they cause.
Evidence-based prevention, diagnostic, and treatment recommendations are critical to U.S. STI control efforts especially as increased rates of STIs are seen. The CDC estimates nearly 26 million new STIs occur each year, totaling nearly $16 billion in medical costs. Newly released preliminary CDC data for 2020 shows while weekly rates decreased during COVID-19 stay-at-home orders, at the end of 2020, reported cases resurged. Therefore, these new guidelines come at a pivotal time in our field and provide current evidence-based diagnostic, management, and treatment recommendations that replace the 2015 guidance.
The new guidelines have notable updates, including:

Updated treatment recommendations for chlamydia, trichomoniasis, and pelvic inflammatory disease
Updated treatment recommendations for uncomplicated gonorrhea in neonates, children, and other specific clinical situations (e.g., proctitis, epididymitis, sexual assault)
Information on FDA-cleared diagnostic tests for Mycoplasma genitalium and rectal and pharyngeal chlamydia and gonorrhea
Expanded risk factors for syphilis testing among pregnant patients
Recommended two-step serologic testing for diagnosing genital herpes simplex virus
Harmonized recommendations for human papillomavirus vaccination with the Advisory Committee on Immunization Practices
Recommended universal hepatitis C testing in alignment with CDC's 2020 hepatitis C testing recommendations
The Recommendations for Providing Quality STD Clinical Services (STD QCS), released in January 2020, and the NACCHO-created STD QCS Planning Toolkit that accompanies it, complement the newly updated treatment guidelines. The Treatment Guidelines are the most widely referenced and authoritative source for managing STIs and can be accessed online. An updated STI Treatment Guidelines mobile app is in development and is expected to launch in the coming months. Trainings, technical assistance, and other resources are available through CDC partners, including the National Network of STD Clinical Prevention Training Centers (NNPTC) and STD clinical consultation services through the STD Clinical Consultation Network, as well as through NACCHO.
All healthcare providers should follow basic tenets of STI prevention— take a thorough sexual history, follow STI screening recommendations, ensure partners are notified and treated, and consider expedited partner therapy for those unable or unlikely to seek timely care.