By: Chari Cohen, DrPH, MPH, Hepatitis B Foundation; Kate Moraras, MPH, Hepatitis B Foundation; Thaddeus Pham, BS, Hawaii Department of Health; Isha Weerasinghe, MSc, Association of Asian Pacific Community Health Organizations; Vivian Huang, MD, MPH, National Viral Hepatitis Roundtable; Jefferey Caballero, MPH, Association of Asian Pacific Community Health Organizations; and,Joan Block, RN, BSN, Hepatitis B Foundation
Overview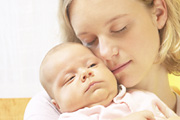 Every year, an estimated 800 to 1,200 infants in the U.S. become infected with hepatitis B virus (HBV) at birth. While this might not seem like a large number, one in four of these babies will die prematurely (in adulthood) of HBV-related complications, such as cirrhosis, liver failure, and/or liver cancer. This is unacceptable, given that we have the tools necessary to eliminate mother-to-child (perinatal) transmission of hepatitis B. However, these tools are only effective if they are used widely and consistently. Current reports show that there are gaps and lost opportunities that need to be addressed in order to eliminate perinatal transmission of HBV.
The U.S. has built a strong foundation for the prevention of hepatitis B through its Perinatal Hepatitis B Prevention Program, administered by the Centers for Disease Control and Prevention (CDC) and implemented in state and local jurisdictions across the country. The program includes routine screening of all pregnant women for HBV infection and post-exposure prophylaxis for infants born to HBV-infected mothers. Program success hinges on effective collaboration between clinical providers, birthing hospitals, and local health departments. Perinatal prevention coordinators housed at local, city and state health departments around the U.S. serve as the critical link, ensuring that infected mothers and their babies receive necessary services.
About 25,000 births each year in the U.S. are to women who are infected with HBV. The CDC Advisory Committee on Immunization Practices (ACIP) recommends that all infants born to HBV-infected mothers receive their first dose of HBV vaccine, and a dose of hepatitis B immune globulin (HBIG), within 12 hours of birth. This regimen has been shown to be 95 percent effective in preventing perinatal infection. In 2016, ACIP took further steps to emphasize the importance of vaccinating newborns as soon as possible after birth and issued a new recommendation that newborns receive their first dose of HBV vaccine (the "birth dose") within 24 hours of birth, replacing their previous recommendation "at hospital discharge."
A 2010 Institute of Medicine (IOM) report found that viral hepatitis quietly persists throughout the U.S., despite effective prevention and control efforts. The IOM committee raised specific concerns about the number of cases of perinatal transmission of HBV, and called upon federal agencies to provide additional resources and guidance to perinatal hepatitis B prevention programs to expand and enhance their capacity.
The Nation's Blueprint for Eliminating Viral Hepatitis
In the fall of 2015, IOM began a new, two-phase study to consider the feasibility of elimination goals for viral hepatitis infection in the U.S., and to outline the actions needed to achieve reduction and elimination goals. The phase one report, released in April of 2016, found "inconsistent observance" with ACIP recommendations for timely newborn vaccination, and called for better strategies to ensure the delivery of the birth dose of vaccine and immunoprophylaxis, when needed. The IOM committee concluded that:
ending perinatal transmission of HBV is "highly feasible," with sufficient resources and commitment;
identifying HBV-infected pregnant women, and consistently administering the birth dose of HBV vaccine to their newborns, are critical factors of success; however,
surveillance is sporadic and underfunded, and vaccine tracking across jurisdictions is poor.
Following the release of the 2010 IOM report, a federal interagency working group was convened by then-Assistant Secretary for Health, Dr. Howard Koh, to address the IOM recommendations. In response, the first national Viral Hepatitis Action Plan (VHAP), Combating the Silent Epidemic of Viral Hepatitis: Action Plan for the Prevention, Care, & Treatment of Viral Hepatitis, was released by the working group in 2011. This "blueprint for action" emphasized elimination of mother-to-child transmission of HBV as one of its four overarching national goals. The VHAP was recently reviewed and updated – and on January 20, 2017, HHS released the VHAP 2017-2020, described as "the nation's battle plan for fighting viral hepatitis in the United States."
Refining the Nation's Blueprint for Eliminating Viral Hepatitis
The newly updated VHAP differs from past iterations in that it offers more global goals towards addressing viral hepatitis in the U.S. Eliminating mother-to-child transmission of HBV is now included in the plan as a strategy under goal 1, to "prevent new viral hepatitis infections." In the previous versions of the VHAP, the inclusion of eliminating perinatal HBV transmission as a primary goal sent a powerful message about its importance and achievability as a public health priority. Having this as a prominent goal has been an important tool for advocacy, program development, and recruiting multi-sectoral partners interested in and dedicated to addressing perinatal HBV transmission. We understand the strategy for the 2017-2020 VHAP to include more global goals, and we are pleased that eliminating perinatal HBV transmission still has a prominent place within the VHAP. However, we urge all stakeholders to continue to see the elimination of perinatal HBV transmission as a top priority, and we hope that moving the elimination of perinatal HBV transmission from a primary goal to a strategy does not appear to downgrade its importance, or halt or reverse recent progress.
We are additionally concerned that the only indicator described in the new VHAP for the strategy to eliminate
perinatal HBV transmission is to "increase the rate of hepatitis vaccine birth dose coverage to 85%." There are many pressing gaps in addressing perinatal HBV transmission – we need to improve the identification of infected pregnant women, and improve administration of post-exposure prophylaxis and completion of the three-dose HBV vaccine series for infants born to infected moms. These are critical outcomes, and they are indicators for which we have baseline data that can be used to evaluate impact and change over time. While improving the overall birth dose rate of HBV vaccine is an important component in addressing perinatal hepatitis B transmission, it is vital that we continue to work towards improving and measuring these other stated outcomes, as well.
We also want to bring attention to the 25,000 infected women who give birth each year in the U.S. Unfortunately, with the current focus almost entirely on preventing transmission to their newborns, the fact that their mothers have chronic HBV infection can escape attention. This is a lost opportunity (one that the updated VHAP recognizes) to refer HBV-infected mothers for follow-up care where they can receive counseling and management or treatment for their own disease.
Maternal disease management is an essential element for both mothers and their babies. Treatment of women who have high viral loads with antiviral medications during the third trimester of pregnancy can help to reduce vaccine-breakthrough perinatal infections. In addition, the health of the mother has a significant impact on her entire family. However, it can be challenging to address HBV infection for pregnant mothers who have multiple barriers to sustainable health care that is both culturally and linguistically appropriate. Improving care for chronically infected mothers is critical as we move forward in our efforts to eliminate hepatitis B infection and to prevent liver cancer and other potentially fatal complications.
A New Call to Action
We, as partners in the fight against viral hepatitis, have a new call to action: we must emphasize the elimination of perinatal hepatitis B transmission as one of our top national priorities, until the goal is achieved. As stated in the 2015 IOM report, elimination of perinatal HBV is highly feasible. With a commitment of the necessary resources, and the political will to realize full implementation of current guidelines and recommendations, we can finally eliminate perinatal HBV transmission. It is not time to step back and lessen our commitment; it is time for the push toward the finish line. We are so close. But we are not done.