By Dr. Randall Ross, Director, Groundwater Technical Support Center, Office of Research and Development, U.S. Environmental Protection Agency (EPA)
For sixteen years running, researchers at EPA's Robert S. Kerr Environmental Research Center in Ada, Oklahoma, have co-organized Water Fest, an annual community science education and outreach event for elementary-age students in Pontotoc County. The purpose of Water Fest, held in celebration of Earth Day, is to focus on the importance of water to society and local communities. Environmental education of groundwater and surface water is a topic near and dear to my heart.

Groundwater is a critical resource, especially in water-scarce areas like central Oklahoma. Subsurface contaminants can enter groundwater and subsequently make their way into the drinking water supply. EPA is researching these topics, as well as developing models and tools to characterize, monitor, and remediate subsurface contamination to protect our drinking water supply. Our division also provides research and outreach for applied site-specific studies to determine the effects of management practices on pollutant removal or pollution prevention. We are also researching and working collaboratively with other area organizations to address local and regional concerns such as water conservation, the sustainability of water resources, drought contingency planning, and drought resiliency.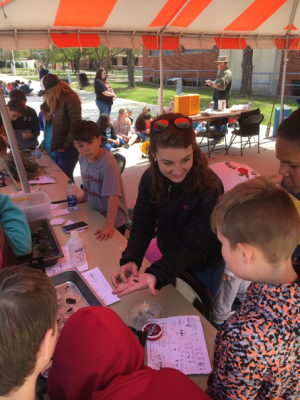 Each year, I lead a team of EPA groundwater researchers and support staff, joining forces with co-organizers East Central University (ECU) and the Oka' Institute, to host the event on ECU's campus in Ada.
This year, the Groundwater Characterization and Remediation Division (GCRD) team hosted six activity stations, including invertebrate ecology, hydrogeologic tools, physical groundwater flow model, geology, water tasting (spring, well and sulfide spring water), and field instrumentation/well installation.
Over the years, other participating organizations have included Oklahoma State University's Agricultural Extension Service, Oklahoma Department of Environmental Quality, Oklahoma Water Resources Board, USDA Natural Resource Conservation Service, the U.S. Geological Survey, the City of Ada, and the Chickasaw and Choctaw Nations, who all host water-based educational activity stations related to groundwater and surface water.
Topics have covered wetland plants, surface water critters (aquatic insects), surface water hydrology, subsurface site characterization equipment, land surveying, the hydrologic cycle, local water resources, soil health and its importance, flooding and soil erosion, solar energy, water chemistry, GIS and more.

Our participation provides an opportunity to display some of the EPA scientific equipment and research efforts to the next generation of scientists and the local community. This year, we reached over 400 area elementary students, and hopefully inspired some to include water issues in their future academic efforts. Our division and the EPA lab continue to be a major part of the Ada community, sharing our great work with our neighbors. The impact of Water Fest is supported by positive comments from the area participating science teachers.
I feel that Water Fest is having a positive impact on students and helping to raise awareness of different aspects of water science. Our engagement with the community is an important part of our presence in Ada, and we consider ourselves active members of the community itself. In addition to Water Fest, our division is engaged in a variety of other community efforts, including mentoring ECU students and working closely with local, tribal, regional, and federal organizations to address the water policy and management issues affecting the area.
Feature image caption: EPA researcher Randall Ross talks with students at the groundwater and geology station.