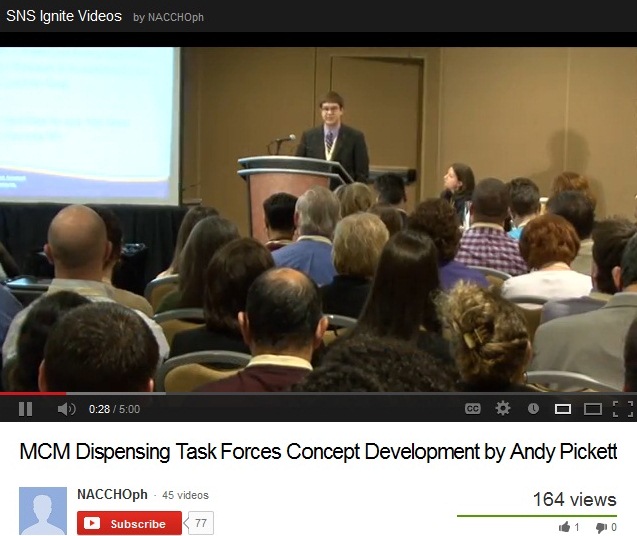 By Sarah Keally, Program Analyst, NACCHO
How can you captivate an audience and convey an important concept in only five minutes? Try an Ignite presentation. Ignite presentations are fast-paced and creative presentations conducted in five minutes with 20 PowerPoint slides, with each slide advancing every 15 seconds. Ignite presenters are encouraged to use a variety of pictures and very little text in their slides to convey a story to the audience. Ignite presentations are based on presentation models used by the technology community and are becoming a popular presentation format across fields.
Several speakers presented in the Ignite format at the 2013 Public Health Preparedness Summit during three sessions: Connecting the Dots Between SNS and Collaborative Partnerships: The 12 Most Valuable Lessons Learned; Not Your Everyday Hazards: Integrating Radiation and Chemical Hazards Into All Hazard Planning; and Real World Planning Tools: Learn it Today, Use it Tomorrow. Ignite Sessions have been well received at conferences and are an audience favorite due to their quick and interactive nature.
If you are interested in creating an Ignite presentation of your own, here are some tips:
Start early. It takes longer than you think to take an important topic and narrow it down to a simple presentation. Try combining strategic and big picture thinking. What do you want your audience to take away from the presentation? Many of the best presentations break processes down into about four or five specific, tactical steps.
Brainstorm, then edit. When writing your first draft, throw everything you can possibly think of to include in the presentation, even if you aren't sure it belongs. Then step back and see which ideas connect. Ask yourself what is important and tangential to your topic.
Tell a story. Even if you don't really think your topic is "story-like," find the story in the topic to make it interesting and relatable to the audience. The Ignite presentations that have worked best were funny, revealing, had a clear beginning and an end, and had a simple appealing design.
Have one key idea per slide. Stick to one idea per slide and avoid lots of text so that the audience can focus on what you have to say.
Rehearse, rehearse, rehearse. Practice as much as possible so you will be able to keep up with the timing of the presentation. Also, remember to talk calmly and clearly even though the slides are moving quickly.
Include a final call to action. End your presentation with a slide listing next steps or a call to action to encourage your audience to act on what they learned.
Have you ever participated in an Ignite Session? Share your experiences in the comments section.