This post originally ran on NACCHO's Healthy People, Healthy Places blog. For more environmental health news and information, visit http://essentialelements.naccho.org/.
By Katie Regan, Communications Specialist, NACCHO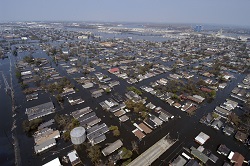 Ten years ago on Saturday, August 29, just before dawn, Hurricane Katrina spun out of the sea and landed on American soil, forever altering the human and environmental landscape of the southern United States. Churning 400 miles wide, the storm tore across the Gulf states and into New Orleans, breaking open the levees and swamping the city in up to 20 feet of water. When the winds finally dissipated, New Orleans was unrecognizable. Eighty percent of the city was underwater, and more than 1,800 people were dead. The city had suffered one of the most devastating natural disasters in American history—one that put local public health to the test.
Ten years later, with wildfires burning in the west and Tropical Storm Erika swelling in the south, public health professionals should keep in mind the experience of Katrina, and put to use the lessons learned before, during, and after the storm to ensure safe, successful responses in emergency situations and severe weather events.
Every location in the United States is susceptible to some form of severe weather, be it a thunderstorm, tornado, flood, or tsunami. Local health departments should encourage residents to know the hazards that could affect them, and to develop emergency plans in response to each. This sort of all-hazards emergency preparedness includes knowing how the local health department will communicate about impending hazards, informing friends and families, and creating emergency preparedness kits.
Hurricanes, in particular, can cause catastrophic damage. Atlantic hurricane season runs from June 1 to November 30 each year. On average, 11 tropical storms, six of which become hurricanes, develop in the Atlantic Ocean, Gulf of Mexico, and Carribean Sea [1]. Major hurricane disasters are often due to lack of awareness or preparedness, underscoring the need to educate communities about the threat these storms pose. Local health departments in states likely to be affected should inform communities of evacuation routes and emergency shelters, and encourage them to develop hurricane emergency plans with their families and neighbors. This includes identifying potential hazards, finding out whether one's home is in a flood zone, learning how to secure one's property, and preparing a list of emergency supplies.
Of particular importance is to have plans in place for responding to vulnerable populations, such as the elderly or people with disabilities, who may need additional assistance to safely evacuate or manage a storm. More than 70% of those who died in New Orleans as a result of Hurricane Katrina were elderly people unable to evacuate from their homes or nursing facilities [2].
In addition to preparing the public, the Centers for Disease Control and Prevention (CDC) and U.S. Department of Health and Human Services (HHS) recommend that health departments make their own preparations, and develop close working relationships with other emergency-related institutions, such as fire departments, local emergency planning committees, and neighboring health jurisdictions, in order to more effectively coordinate responses.
During Hurricane Katrina local health officials faced a number of challenges, not the least of which were the destruction of public health infrastructure and communication breakdown over which level of government held jurisdictional authority. The federal response to Hurricane Katrina has been widely criticized as slow, disjointed, and generally inadequate [3]. President Obama today echoed those feelings, stating in a speech that "what started out as a natural disaster became a man-made disaster—a failure of government to look out for its own citizens." Much of that has been attributed to a lack of proper communications among various agencies, which in turn affected public health's ability to serve its community. In many situations, the destruction of infrastructure even prevented local agencies from establishing functional incident command structures, thereby preventing agencies from working together [4]. However, emergency response units and local health departments who were able to put the system in place reported great success in coordinating a response among localities. Local health departments should rely on the incident command system in times of crisis and ensure that all staff members are trained in back-up communications strategies.
Public health crises continued to grow in the wake of Katrina. Two days after the storm hit, then-HHS Secretary Michael Leavitt declared a public health emergency in Louisiana, Mississippi, Alabama, and Florida. Stranded individuals or those still in their homes faced environmental threats from floodwaters contaminated with E.Coli and high levels of lead, as well threats to food safety and security, and drinking water quality; shelter evacuees—273,000 at peak [5]—were at high risk for contracting infectious diseases that spread in close quarters, like norovirus; and 600,000 displaced people, one of the largest displacements since the Great Depression [6], flooded neighboring states and put pressure on already strained local public health systems.
As devastating as the storm was, it has been cited as helping CDC and public health as a whole to better organize subsequent emergency public health responses, lessons then passed down to the state and local levels [7]. Katrina required public health to respond to a number of issues at once, including: establishing infectious disease prevention, protection, and outbreak control procedures; teaching injury prevention to displaced people; environmental health and safety monitoring of homes, water quality, and shelters; and monitoring of worker and responder safety, among many other issues. Additionally, as response to the 600,000 pets that were killed or stranded during the storm, Congress passed the Pets Evacuation and Transportation Standards Act, which requires states to address pet and service animals in their evacuation plans in order to receive Federal Emergency Management Agency emergency assistance for disasters.
As hurricane season trudges on, hovering over Katrina's memory, local public health should ensure that not only their communities are prepared, but that the organizations themselves are trained and ready to respond to the next emergency.
For more information and resources:
---