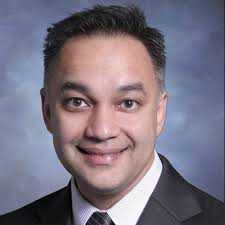 Interview by Lindsay Tiffany, Lead of Publications, NACCHO
On July 1, Umair A. Shah, MD, MPH, Executive Director of Harris County Public Health in Houston, became NACCHO's President. Dr. Shah is a long-standing and enthusiastic member of NACCHO and has served on a variety of different advisory groups including the Health Equity and Social Justice Committee, the Global Health Workgroup, the Media Champions Network, and the Finance Committee. He has also represented NACCHO in a number of national initiatives, providing the voice of local public health. He has served on NACCHO's Board of Directors since 2014. He recently spoke to NACCHO Voice about his career path, the challenges that keep him up at night, and how his agency is using innovative, non-traditional approaches to create the local health department of tomorrow.
Tell us about your career path in public health and how you got to where you are today.
My career path in public health actually starts back when I was exposed to the importance of medicine at an early age as I witnessed my own family go through health issues as a child. As I went to undergrad at Vanderbilt, I started off as a molecular biology major. But I learned after two years that I just didn't see myself as the person who would be happy looking through microscopes or in a laboratory setting—I really liked to connect with people. Shortly thereafter, I took an ethics class that piqued my interest in how the social sciences and humanities play into what we do in medicine and public health. So I changed major from molecular biology to philosophy and the rest is history!
Being in medicine never left me so I did go on to medical school but honestly what really excited me was when I came across a piece in one of my textbooks about the effort to eradicate smallpox in the 1950s through the 1970s. The World Health Organization (WHO) worked to take care of this disease that afflicted millions of people across the world. I thought it was so impressive that the world was able to get rid of an entire disease.
So, never one not to dream big, here I was in medical school in Ohio, and I made it my mission—I was going to somehow find my way to the WHO in Switzerland. Soon after, I found myself on a plane to Geneva for a two-month internship in international health policy. The experience exposed me to how one can impact people at the population health level, not just the individual level. I saw the very important role public health plays behind the scenes to support healthcare providers and healthcare systems.
How long have you been Executive Director of Harris County Public Health and how do you think about your role?
I've been the Executive Director for the last four years. It's an exciting and challenging role. There are so many moving pieces that you have to deal with on a daily basis. You may have a plan for what you're going to do when you come to work every day but that plan can change very quickly.
When I did my residency in internal medicine, I then did a primary care general medicine fellowship for my clinical work; working with women with HIV was my clinical focus. During that time, I formalized my training in public health by getting my Master's in Public Health from the University of Texas School of Public Health. During my fellowship, I began working in the emergency department at Houston's Michael E. Debakey VA Medical Center and eventually became a full-time (and then part-time) emergency department physician there for over a decade. While I really enjoyed my work in the ER, I knew I wanted to utilize my training in public health so I was offered the Chief Medical Officer role in Galveston County Health District, a smaller local health department here in Texas. I then transitioned to Harris County, where I served as Deputy Director until 2013, when I became Executive Director.
I share this because I often have an ER doctor mentality. I like to different challenges and to push myself. I like lots of different things happening at the same time—and that's what public health is every single day. There are a number of things that happen on a daily basis—communications, policy work, infectious disease outbreaks, environmental issues, dealing with a problem in the community, working with our elected officials—that remind me that public health is always fast-paced and exciting.
What issues are especially pressing for your community right now?
Our department received NACCHO's Local Health Department of the Year Award in 2016, which recognized us for our innovation, engagement, and work in health equity. Those three principles underpin everything that we do. We look at things from the standpoint of innovation: How can we approach things differently and build the public health of tomorrow? We also look at things from an engagement standpoint. We have invested in building a strong communications team. We are very active on social media. We've revamped our website and we've invested resources in a communications studio in an effort to engage our community wherever they are. Health happens where people live, learn, work, worship, and play; so we believe we need to be out in the community, not just in the four walls of our building and clinics. From an equity perspective, we have to reach out to all segments of our community, especially those who may not have access to community decision-making processes. We want to make sure we're aligned with everybody in the community.
Those are the principles that we use and the lens through which we view the problems that challenge us. Those problems range from obesity and chronic disease, infectious diseases like Zika and Ebola, the built environment, the social determinants of health, substance abuse, mental health, and everything in between. We work collaboratively as a department to take on these challenges. It is the story of the behind the scenes but key public health work that happens across this country.
What challenges you most in your role? What keeps you up at night?
What keeps me up at night is the fact that you don't know what public health issue is lurking around the next corner. Despite public health doing everything that it can do, we don't know what issues are going to challenge us next. There are so many unexpected things that can happen that we will be responsible for addressing.
To add to that, public health has experienced a reduction in resources and that has impacted our ability to get our work done. Yet if we see a 10% cut in in funding, the community does not accordingly reduce its expectation of the services you provide by 10%. The community still expects you to be just as responsive, just as active, just as engaged as if you had a full complement of resources. That's not always possible and it's a real challenge. To tackle this, we really need to be sure that people understand the importance of public health and what we do behind the scenes. When people understand what we do, which can be largely invisible, I really believe that they will value it—and when they value it, they will want to invest in it.
One of the biggest challenges for us in public health is raising the visibility of what we do behind the scenes. We often say in our department that we're like the offensive line in a football team. We may not get the recognition that the quarterback gets or that the running back gets but it's absolutely important that the offensive line does well. The difference is also that in football, people know that if you have a good offensive line, you continue to invest in it to keep that line strong. Oftentimes for public health, the resources are not invested in us, in that offensive line. For example, when tuberculosis (TB) rates go down, funding to prevent it goes away—and then TB rates go back up. Our challenge is to constantly remind people of the work we do behind the scenes to protect and build the line. After all, it is a true investment.
What are you most proud of in your career to date?
I am most proud of the fact that we were an awardee of NACCHO's Local Health Department of the Year Award last year. That was a testament to the fact that when you put together an incredible team and you have an incredibly diverse and committed staff and take on a number of challenges with the right principles in mind, you have the recipe for success. I really think our department has done a great job of that. We have grown as a department, both in personnel and in budget. But we have also grown in how we approach a number of different public health issues. And somehow we still have fun in the process and enjoy our time together. I am most proud that I can lead these dedicated, innovative, smart people. My job is to support them and provide guidance so that they can do their jobs.
I'm also proud of the fact that we've been able to show that there are different ways of approaching public health, that we don't always have to take the traditional approach of tackling a problem—whether it's chronic disease or infectious disease response or environmental health. There are new approaches that allow us to solve problems and move our work forward. It's been really exciting.
I'll give you a few examples. We're working with Microsoft Research to pilot smart mosquito traps to combat mosquito-borne diseases. We're the first health department in the country to partner with them. The traps are really amazing; through infrared technology, they are able to identify mosquitoes to determine whether they are Aedes mosquitos or Culex mosquitos based on the pattern of the wings flapping! The traps help us catch the specific kinds of mosquitos we want to target—whether for Zika or West Nile Virus. The traps also give us a lot of data and analytics on the back end. That's an example of our department doing things that are "outside of the box."
Another example is that we have been recognized as a leader here in Texas in implementing Video Directly Observed Therapy (V-DOT) for tuberculosis. We've taken smartphone technology and given it to select patients so that we can observe them taking TB medications remotely. In the process, it saves them from waiting for the health department to come out, we save dollars in not having to visit three, four, or five times a week, and we're able to do that all through effective use of technology. We partnered with Verizon in this effort. Again, public-private partnership. We have also been helping a lot of other health departments implement V-DOT. That's been really exciting.
The third example is that this fall, we're launching seven large recreational vehicle units—mobile units that we've purchased. We've made a $1.5 million investment in these mobile units. As I said before, health happens in the community where people live, learn, work, worship, and play and so these units will go out into the community. They will serve as medical mobile units, a mobile dental unit, a mobile mosquito museum, and a mobile command center that, when it's not being used for emergency response, can be used with virtual reality to get kids excited about public health. We're doing all these things that allow us to get into the community, have people see what we do, and be a part of it.
I get excited about these things but will share one last example—we are also very proud of PHILab, which is our Public Health Innovations Lab. It's an incubator lab that we're just getting off the ground. It represents the first time ever that, instead of asking for dollars, Harris County Public Health is going to be a grant maker for the community. We're asking community agencies and entities to apply and we'll make grants of up to $250,000 per year to help them bring in those values of public health and innovation and equity. It's really exciting because it changes the narrative about us. People don't see us as just being a traditional health department—they see us as a trusted resource that is really trying to move the needle in terms of improving health.
What advice would you give to someone just starting a career in a local health department?
My advice is to soak it all in and make sure you remember that they are there to ask "Why?" and "Why not?" Why do we do things a certain way in public health and why don't we do certain things in public health? The next generation is there to help us all grow and do better as a field.
Secondly, I believe we're charged with both doing good and doing well. We have an incredible responsibility to do good in the community—but also not to forget to do it well. We have to implement business best practices, be efficient, and be really effective with the responsibility we have been given.
Finally, public health has an incredibly wide path and you want to be sure that you take on very diverse problems by addressing them at the root causes and by utilizing all the different paths open to us for doing so. We want to make sure that people recognize that addressing the root causes is only really possible when you look at the full spectrum of public health and community-wide issues.
What are you looking forward to achieving during your tenure as President of NACCHO?
We have done a lot of fantastic things at our department and I'd like to bring those ideas, those values and principles, to other of health departments to learn from each other. NACCHO is our collective voice and the right pathway to do just that. My priorities include innovation, engagement, equity, partnership, building capacity in local health departments, and the global-domestic interface—what happens in global public health affects us in local public health. It's really important to tell the story and the narrative of what we do in public health and why it's important. When we tell that story, we really believe that people will value it. And when they value it, they will want to invest in it. When you bring that all together, that's what I'd like to accomplish this year—helping NACCHO move its mission forward to advance local public health and serve as the collective voice for local health departments. I see that as being an incredibly important piece of what NACCHO can do to amplify the voice of people in public health, who are oftentimes very dedicated to their work but whose work often remains invisible behind the scenes.
What do you do for fun?
My wife and I have an eight-year-old, a three-year-old, and an eight-month-old. With three kids, they tell me what they want to do. We try to provide them with a diversity of experiences—we love cultural events, we go to museums and parks, and we're traveling constantly. My wife and I want to teach our kids the importance of doing good and doing well. We also want them to learn from a number of diverse role models and are constantly exposing them to new things. In my mind, it's really critical to teach the next generation about what they can do to help communities be stronger communities.
I also love to read and write. I've actually started writing—but haven't yet finished—about seven or eight different books. They are mostly fiction—one is a Tom Cruise type thriller, one is a philosophical approach to life, one is about careers. I have all these ideas that I never quite have time to finish because I'm so busy. But eventually, one day, I will. A friend actually suggested I get away from writing these big books and instead write a screenplay, so that's on my "to-do" list—and boy do I have a lot of stories to tell! I like to stay active and play pick-up games of baseball or football or tennis. And we partake in a lot of community and volunteer activities. Community service is very important to my family and we do our best to get engaged in the community and help others.
So yes, fun is what keeps you energized and fresh—and brings perspective and connectivity for what you bring to your profession and your community each and every day.