By Marie Smith and Dylan Williams, NACCHO Interns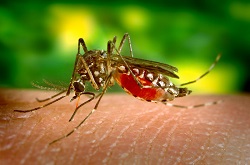 Vector-borne diseases (e.g., Zika virus, West Nile virus, and Lyme disease) are a concern to many Americans, spreading among the population through mosquitoes, ticks, fleas, and other vectors. The mosquitoes and ticks that spread disease are highly mobile creatures that are able to reproduce rapidly. As vector-borne diseases continue to permeate the United States, local health departments (LHDs) play a key role in creating coordinated, evidence-based initiatives to ensure their communities are protected.
NACCHO's mission is rooted in fostering support and guidance for LHDs. One way this is accomplished is through the NACCHO Toolbox, a repository of information, data, and projects from across the country on different health topics to assist individuals or organizations looking for case studies or examples. The toolbox includes a Vector Control Toolkit to connect LHDs with effective vector control initiatives.
A selection of the resources available through the Vector Control Toolkit are highlighted below:
Mosquito Control Policies for Developing and Sustaining Robust Mosquito Control Programs & Overcoming Financial Barriers to Create and Sustain Local Mosquito Programs
NACCHO has published two resource documents on establishing and sustaining mosquito control programs. The documents offer examples of successful interventions and how those interventions were able to appropriately allocate funding where needed. The documents further examine specific sites within the United States, looking at how those sites were able to benefit and thrive.
Fight the Bite: Zika Door Hanging Canvassing – Model Practice
The Henry-Martinsville Health Department in Martinsville, VA executed a community education vector control initiative through the use of informative door hanging decals. The door hanging tools were placed throughout neighborhoods as a quick reference document to educate the public on proper mosquito preparedness to avoid bites while outdoors. Homes in the areas were evaluated for mosquito breeding to determine what major risks they posed for transmission of Zika virus to ensure a coordinated and targeted campaign. The campaign is a great start for an LHD to determine exactly where communication measures can start in order to curb disease.
Implementation Plan for the Vector Habitat Remediation Program
This program from San Diego, CA focuses on the draining of wetlands to prevent mosquito breeding. The San Diego County Department of Environmental Health (DEH) experienced hurdles in widespread larviciding, so the organization created a remediation program to address the needs of the community. The implementation plan outlines a sustainable, cost-effective control program that allows for grants to be offered through the San Diego DEH to fund local vector mediation initiatives that can be applied to other municipalities.
It is difficult to know exactly which vectors pose a risk to a local community, but the National Environmental Health Association (NEHA) developed an interactive tool to assist in vector identification. The map offers different filters including vector, vector type, and disease, and it allow the user to see exactly where in the country certain pests persist. Once a location and vector are identified, NEHA links the user with the vector's identification page that lists vector information and mitigation options
Webinar: Deciding When and How to Treat for Mosquitoes
An August 2018 webinar facilitated by NACCHO gives a breadth of knowledge on how three areas in the country—Maricopa County, AZ, Miami-Dade County, FL, and New Orleans, LA—are tackling and mapping their vectors. The webinar gives an overview of different resources LHDs can utilize to detail their vector data to allow for effective intervention. This surveillance data has the capability of introducing technical assistance while also influencing integrated control methods. Also, webinar presenters give reference to mapping software that will help organize information and also be easy to disseminate to the public.
A Performance Management Initiative for Local Health Department Vector Control Programs
A joint effort between the Centers for Disease Control and Prevention (CDC) and the Public Health Foundation (PHF), this resource was created to measure the viability of 14 vector control programs across the country. The agencies developed a method of measuring the effectiveness of each program, the identification risk exposure for mosquito-borne illnesses, and the improvement of communication on mosquito control. The quality performance review was able to reflect on facets of each program that were worthwhile, while also indicating parts that needed improvement.
Zika 101 (Vector Control) – Communication Video
In the words of Andy Lima, "Don't get sick with Zika from the bite of a mosquit-a." Lima, a mosquito biologist from Fairfax, VA, released a rap video giving a general overview on ways to best protect oneself from mosquitoes and measures a neighborhood can take to address vector concerns. The video pairs catchy lyrics with poignant information, and the video is supplemented with an equally entertaining illustration warning of mosquito breeding grounds.
With long-term exposure to repeated insecticides, mosquitoes can develop resistances to chemicals, making certain interventions ineffective. Taking this into consideration, the CDC began offering a Bottle Bioassay to help health officials determine if their vector control operations are helping their community and, if not, what they can adjust to ensure that their efforts are productive.
---
NACCHO regularly updates and maintains the Vector Control Toolkit to ensure all users have access to the most effective tools available. At the top of the Toolbox portal, select "Submit a Tool," and NACCHO will review and post relevant materials.