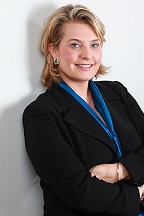 Interview by Taylarr Lopez, Communications Specialist, NACCHO
NACCHO's Member Spotlight series features interviews with local health department leaders and staff about their careers in public health. This interview features Lisa Macon Harrison, MPH, Health Director of the Granville Vance Public Health Department in North Carolina. Below, she shares the how her department is addressing mental health and substance use disorder; youth wellbeing; access to healthcare; how technological advances have affected public health communication; and the need for a new funding model for rural public health.
Tell us about your career path into public health.
Sometimes, when we look back on our career, the path seems so clear and well-timed. But, like many others in this wonderful work, I feel as if I lucked upon a series of 'right place/right time' graces that led me to a local public health department. It's an incredibly challenging and rewarding career, and I'm grateful to work with such talented people who support the community in the way our public health workforce does every day.
I was fortunate to attend the University of North Carolina in Chapel Hill (UNC Chapel Hill) as an undergraduate (Go, Tar Heels!), and they offered a bachelor's program in Health Policy and Management. A friend in my college dorm hallway struck up a conversation and was asking me about my classes and interests, and suggested I might like public health. I signed up for that first course as a freshman in college and have never looked back. I now have two degrees in public health from UNC Chapel Hill— those being a Bachelor of Science in Public Health and a Master's in Public Health. I also started my career there, working at the UNC Center for Health Promotion and Disease Prevention. I am grateful to have found a career I adore and to have happened upon some of the absolute best mentors and colleagues who have taught me how to combine research, practice, innovation, quality improvement, and leadership.
What are some of the highlights of your career since you've been working in this field? What makes the work that you do worthwhile?
The people we work with and for make it all worthwhile. In this field, there are super-smart, analytic problem-solvers who are, at the same time, heart-forward humans doing public health based in science and grounded in caring for neighbors. It doesn't get much better than that. I really enjoy the intersection between research and practice and feel like we have so many more tools available to us than we actually use. I think it's common knowledge that most of us use only a small percentage of the functionality of most of our computers in all their forms: cell phones, computers, brains… The same is true for public health practice. We are required to stay on our toes in response mode so often in this work, that planning and executing evidence-based approaches can take time we don't always feel like we have. When we know what works, we should apply it.
I'm proud to have started a rural academic health department model, where we are constantly tapping the resources of academic partners to help us plan, research, and connect, and at the end of the day, elevate our practice. The model has helped us forge and maintain key relationships with individuals and universities, and has helped us produce millions of dollars of grant funds that support our health department staff. It also allows us to be creative and informed with data at the same time. It's been rewarding to see the ripple effect of the rural academic health department model on our programs, our staff, our coalition work, and our bottom line.
We even have access in our small, rural health department to an embedded researcher, Carmen Samuel-Hodge, PhD, MS, RD, who is onsite with us two days a week. In her other day job, Dr. Samuel-Hodge is a Research Assistant Professor in the Department of Nutrition at the University of North Carolina Gillings School of Global Public Health and School of Medicine. She also serves as an Adjunct Assistant Professor at Duke University's School of Medicine. Her research has focused on clinical and community-based diabetes self-management training interventions among African Americans with type 2 diabetes, behavioral weight loss interventions, weight loss maintenance, and lifestyle interventions using peer counselors, such as community and church diabetes advisors, to deliver telephone-based program components. She helps at Granville Vance Public Health with our evaluation approaches to our Minority Diabetes Prevention Program, our Working on Wellness Coalition, and advises us on our Healthy Communities work with the state, among a few other projects and grant-writing and grant-management missions here. It's amazing to have someone like Carmen just down the hall when staff, including myself, have a question about something on one of our programs, or when we need to reference the literature for a grant. Her work with us is a mutual benefit to us, to her, and to the worlds of public health research and practice. It's exciting to bridge those worlds every week and address health equity together.
What public health issues affect your community the most and what is your health department doing to address them?
We just finished up a year-long effort to collect data for our latest Community Health Assessment, and the community tells us that mental health and substance use disorder, youth wellbeing, and access to healthcare are the three things that matter the most for us to work on with them and for them. Both our communities and secondary data from many sources confirm that we are definitely in the throes of the opioid crisis in the northern piedmont region of NC, and we see every day the need for more harm reduction efforts and more treatment and recovery efforts, not to mention, the need to spend time on our public health and prevention efforts. This crisis has us moving quickly in all directions.
I'm so pleased that our medical director, Dr. Shauna Guthrie, helped us start primary care and Medication Assisted Treatment (MAT) in our rural local health department. I think public health must be responsive to community needs, and community needs differ from each county and state. Although I wholeheartedly carry the Public Health 3.0 banner forward and agree we need to be focused on the social determinants of health, we must be ever-careful with our national-level conversations that we don't put all local health departments in a model of a common type. Many of us can only barely survive financially with a model that depends heavily on clinic care reimbursement. In the southeastern United States especially, many local health departments are decentralized from the state, and in many cases, offer primary care and maternal health, and now MAT, which are otherwise not accessible in rural, poor areas.
If we use language at the national level that doesn't honor that model for local public health sustainability, we risk losing some health departments and valued staff who are good at delivering quality clinical care to people in need. Rural funding for public health, just like healthcare services more broadly, looks mighty different than in an urban setting. The other major issue our local health department face is the privatization of Medicaid in North Carolina and how that will affect rural local health departments. We do need to ask critically challenging questions about what kind of work we need to focus on, what kind of work we can pay for, and what kind of work the public needs us to do. I believe our longstanding efforts in conducting community health assessments and action plans that follow that important assessment, continue to shed light in all those directions. We are long overdue for a new funding model for rural public health. Hopefully, NACCHO can help lead some of those crucial conversations.
What is the biggest change you've seen in public health since you started working in this field?
Technology has certainly affected us all and required us to lead change at breakneck speed. From smart phones to Fitbits to electronic medical records, we have come a long way in a short time. Even in local, rural, public health, these changes have been monumental and continue to offer opportunities and challenges. Who knew we would be dealing with things 'going viral' on social media as local health directors? Fighting misinformation about immunizations alone on social media has been interesting. The challenges never wane.
How are you positioning yourself or your health department for the future?
That's a super question. Hiring and keeping the best people, reading as much as possible about the things that are happening nationally and state-wide, and relentlessly building relationships and collecting ideas from partners in the community are the best ways I know to constantly update a vision and set a course that keeps a long view in mind. There's so much we cannot control in this line of work but staying optimistic about a future for public health that keeps society safe and evolving in all the right ways is critical. When we have periods that are free from disease outbreaks and crises, it offers an opportunity for us to focus on safety, good health, economic development, collaborations, and improved quality of life in communities—those are things a lot of staff and stakeholders get on board with quickly, and they help lead public health into the future naturally. It's important to understand that public policy and politics at many levels are tools for us to get to a better future for public health, and still, they can also be like trains that come at us quickly, to change our course regardless of our ability to prepare for the future. Learning to lead and manage change well is a helpful skill-building approach to preparing for whatever comes our way.
How long have you been a member of NACCHO, and what value do you find in belonging to the organization?
Most of my career, I have been involved with NACCHO's annual meetings and have been able to present different projects and initiatives along the way, and learn from others—it's definitely been for more than 15 years! I love having an organized advocacy team and a group of leaders I can call upon who know public health and the challenges and triumphs in public service leadership. NACCHO is, for me, a perfect-sized group to get to know and help me navigate public health practice well.
What do you like doing in your free time away from work?
Usually, walking and hiking are at the top of my list. I've started a new book by Nadine Burke Harris, The Deepest Well: Healing the Long-Term Effects of Childhood Adversity and I've started a new Netflix series, "The Crown." I rarely watch TV, but this wintery rainy weather has me hooked. At one time in my life I enjoyed salsa dancing and listening to live Latin jazz bands, but I can't seem to stay up that late any longer. It's a distant and positive memory of free time. Now, my 10-year-old daughter Ella, our dog Millie, and my husband Michael have to figure out spontaneous dance party moves with me in our own living room. We try to set aside time for dinner out together that includes live music somewhere in a month's time. We call those nights out 'concert dinner,' and it's pretty low-key local stuff, but any time you combine music, family, friends and food, I'm in and I'm free!
For more interviews in the series, visit NACCHO Voice Member Spotlight.