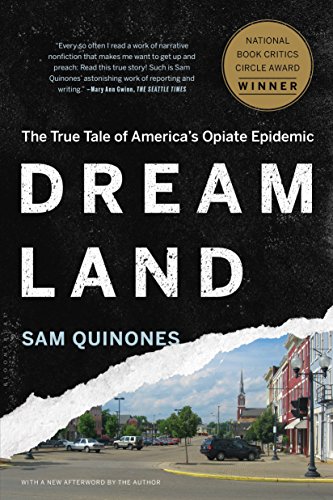 Each month, NACCHO will bring you a new public health book, read and reviewed by NACCHO staff. We hope to provide a well-rounded reading list that you will find enjoyable as well as informative.

Our first recommendation, Dreamland: The True Tale of America's Opioid Epidemic, by Sam Quinones, was published in 2015 and received many accolades for the way in which the author intertwines the multiple narratives that fit into the U.S. opioid overdose epidemic. He tells stories of epidemiologists, big pharma, entrepreneurial drug dealers, and people in recovery to showcase the different perspectives of the addiction crisis in the United States. It is clear that the book was painstakingly researched but is very well written and hard to put down.
Dreamland was one of the first books that connected all the pieces; from discovering the overdose epidemic bubbling under the surface of death records, to the aggressive marketing techniques by Purdue and other pharma companies, to the young men in the small county of Xalisco, Nayarit, Mexico who found an escape from poverty with cheap, potent black tar heroin. This story puts each into an interesting perspective and helps readers understand the complex building blocks that lead to the opioid crisis.
While I read this book several years ago, I continue to recommend it to friends and often find myself thinking back to passages in the book. Particularly now that opioid-related legal battles are vamping up across the United States, this book provides an interesting background and perspective.
Want to discuss this book and others? Head over to NACCHO's Virtual Communities page and connect with peers.