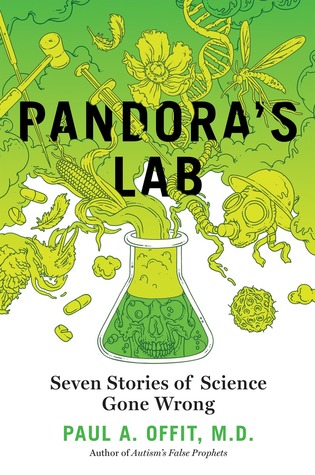 Each month, NACCHO will bring you a new public health book, read and reviewed by NACCHO staff. We hope to provide a well-rounded reading list that you will find enjoyable as well as informative.
Paul Offit is one of my favorite health authors because he covers highly complex scientific topics in a way that is easily digestible. In Pandora's Lab, he discusses seven different ideas that originally started with strong scientific claims, but were ultimately horrible ideas with lasting negative impacts.
Offit covers opioids, trans fats, extracting nitrogen from air, eugenics, lobotomies, DEET, BPA and our all or nothing attitude toward chemicals, and nutritional supplements. While the individual stories are all fascinating in their own right, the main takeaway that is especially important for those of us in public health is to approach scientific claims by demanding data and evidence, not allowing a notable name to forego questioning, and recognizing the importance of the dose-response relationship.
This is a great book that provides interesting facts and provides people like myself, with a more limited scientific background, with digestible scientific lessons that I can bring to my work.
Given my love of Paul Offit's writing style, I'm sure this is not the last recommendation I will give for an Offit book, but especially given our placement in the era of "fake news," I think this is an important read for all of us who rely on science and discovery.
Want to discuss this book and others? Head over to NACCHO's Virtual Communities page and connect with peers.