By Megan Reeve, Program Officer; Autumn Downey, Program Officer; and Jack Herrmann, Senior Program Officer for the National Academy of Sciences, Institute of Medicine, Board on Health Sciences Policy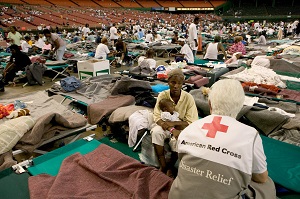 Disasters often impact fundamental elements of a community—physical infrastructure, health, and social services, social connectedness—that all affect the health of its residents. Accordingly, the recovery period, with its somewhat chaotic influx of resources, funding, and processes, presents an important opportunity. National rhetoric often characterizes rebuilding efforts as "returning to normal" – but for many American communities, pre-disaster conditions are far from optimal. Instead, disaster recovery should be seen as an opportunity to redesign physical and social environments in a manner that will improve a community's long-term health status while simultaneously reducing its vulnerability to future hazards. Yet many state and local public health departments devote the majority of their resources preparing and planning for the immediate response to disasters and other emergencies, as until recently, preparedness and response have been at the forefront of national frameworks and guidance.
While state and local grants such as the Public Health Emergency Preparedness and Hospital Preparedness Program cooperative agreements allow for recovery planning, their funds have been significantly reduced over the years, placing health departments in the position of choosing one set of capabilities over the other. Further, little guidance is available to inform the development and adoption of disaster recovery strategies that seek to improve health outcomes. And by the time true recovery implementation begins, much of the media hype has subsided and national attention has moved on – leaving state, local, and community leaders to drive the rebuilding process, leaning on federal partners for support. Recognizing a need to better disseminate the experiences and lessons from past disasters to support more informed recovery decision making, the Assistant Secretary for Preparedness and Response at the U.S. Department of Health and Human Services, the U.S. Department of Housing and Urban Development, the Department of Veterans Affairs, and the Robert Wood Johnson Foundation asked the Institute of Medicine (IOM) to convene an expert committee to develop recommendations and guidance on how local and national leaders can optimize use of resources and mitigate future disaster related impacts towards a goal of creating healthy, sustainable, and resilient communities.
After a disaster, communities face a wide range of complex recovery issues, and decisions made by those outside the public health or healthcare sectors can have far reaching effects on short- and long-term health outcomes. The committee found that groups that plan for and carry out disaster recovery and those that plan for and build healthy communities often work in isolation – contributing to a lack of communication and collaboration around what could be shared goals. They found that developing a shared community vision is a first step in building the foundation for increased cross-sector collaboration – with health, equity, resilience, and sustainability as key underpinning values of the vision. Ideally, this shared vision should be in place prior to a disaster, so goals are well understood before disaster strikes and the influx of resources and stakeholders come into play. "Health-in-All-Policies" (HiAP) describes an approach that seeks to improve the health of all community members by incorporating health considerations into decision-making processes and policy development and emphasizes the need to collaborate across sectors to achieve common goals. Local health departments and communities are increasingly using tools like health impact assessments to apply HiAP principles to strategic planning with the goal of creating environments that better support health. However, the committee found that using this approach during recovery efforts could be increased and focused on strengthening health and resiliency of individuals and communities.
While the IOM report calls specific attention to public health, behavioral health, and health care sectors, importantly there are also "place-based" recovery strategies that, though directed at non-health sectors, can promote and protect positive health outcomes. Local health departments often interface with different sectors and members of their community in the midst of every day work, but dedicated activities and partnerships with sectors such as urban planning, transportation, housing, and community development can lead to shared goals for a healthy community vision and a clear path forward for recovery after a disaster. Not only can the community "rebuild better", but they can also mitigate against future hazards and increase their overall resilience — both physically through infrastructure and socially through mental wellness, social capital, and the reduction of disparities.
The 12 recommendations of the IOM report encapsulate a range of sectors, ideas, and frameworks but can be translated to actions as simple as creating healthier housing through green building design, enhancing active lifestyles, and ensuring available transportation to promote equitable access to goods, services, and amenities. These strategies can also enhance the economic vitality of a community by creating opportunities for commercial revitalization and business development – further strengthening social determinants in the community and building resilience for better health. View the full report.
The 2016 Preparedness Summit will explore the theme, "Planning Today for Rebuilding Tomorrow: Focusing on Resiliency and Recovery in the 21st Century." Abstract submissions for the Summit are now open. Learn more about how to submit an abstract and become one of the distinguished Summit presenters.