By Sara Lyons, NACCHO Program Analyst, Health and Disability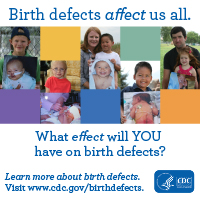 Every four and half minutes a baby is born with a birth defect in the United States. In an effort to address this serious public health issue, the Centers for Disease Control and Prevention (CDC) celebrates National Birth Defects Prevention Month every January. This year's theme is titled "Prevent to Protect: Prevent Infections for Baby's Protection," and aims to generate a renewed focus on reducing risks of infection during pregnancy, which can often cause birth defects. While not all birth defects are preventable, every pregnant woman and her family should have access to the resources they need to have the healthiest pregnancy possible. The recent emergence of the Zika virus, raises the stakes even higher, placing added urgency on increasing prenatal health and prevention as the primary means to lower instances of birth defects nationwide.
The following focus areas can help (also available as an infographic at this link) expectant mothers and/or women thinking about getting pregnant lower the likelihood of infection during pregnancy:
Talk to your healthcare provider.

Talk to your provider about what you can do to prevent infections before and during pregnancy, including information on available vaccinations and travel precautions.

Properly prepare food.

Wash hands before and after preparing food.
Avoid unpasteurized milk and cheese and other foods made from them as well as raw or runny eggs.
Clean, separate, cook, and chill food.

Maintain good hygiene.

Wash your hands often with soap and water.
Avoid putting a young child's food, utensils, cups or pacifiers in your mouth to prevent cytomegalovirus (CMV).

Protect yourself against insects and animals.

When mosquitos are active, wear long-sleeved shirts and long pants when outside and use an Environmental Protection Agency (EPA) registered insect repellent.
Avoid wild or pet rodents, live poultry, lizards and turtles, and do not clean cat litter boxes while pregnant.
January 8-14, 2017 is also National Folic Acid Awareness Week. It is recommended that women have 400 micrograms (mcg) of folic acid daily to prevent serious birth defects of the brain and spine, such as spina bifida and other neural tube defects. Click here for more information about folic acid.
NACCHO encourages local health departments (LHDs) to promote National Birth Defects Prevention Month and National Folic Acid Awareness Week in the communities they serve. Join the #Prevent2Protect Thunderclap to raise awareness through social media and/or encourage individuals affected by birth defects to share their story by using the hashtag #1in33. Free promotional materials and other resources are also available online from the CDC and the National Birth Defects Prevention Network.