This Year's Lead Poisoning Prevention Awareness Week is Vital
After state officials switched the Flint, Michigan, water source to the polluted Flint River, residents suffered from unprecedented levels of lead poisoning. The U.S. Environmental Protection Agency (EPA), along with numerous other organizations intervened to protect the health of thousands of families and children, who are at particular risk for developmental and neurological issues after exposure. For more information, please read the feature story of the latest NACCHO Exchange issue, featuring an exclusive interview from the Genesee County Health Department, a key player in the Flint water contamination crisis.
While Lead Poisoning Prevention Week (October 23-29, 2016) is led annually by the EPA, U.S. Department of Housing and Urban Development (HUD) and Centers for Disease Control (CDC), the Flint crisis—along with reports of water toxicity in Washington D.C., Ohio, Indiana and other regions—highlights the issue's continued prevalence. As in Flint, public officials may not always act responsibly and, in fact, cities and states are not required to report the lead content of water or test children for exposure. Though the rust color of Flint's water signaled a problem, the presence of lead is often hard to detect, meaning awareness and prevention are the most pivotal tools used to address lead poisoning.
Local health departments and other partner agencies can be great advocates to protect their communities from the dangers linked to lead poisoning. In particular, water, paint and soil are the three critical areas to monitor lead levels for local health officials, community organizations and individuals when it comes to preventing contamination.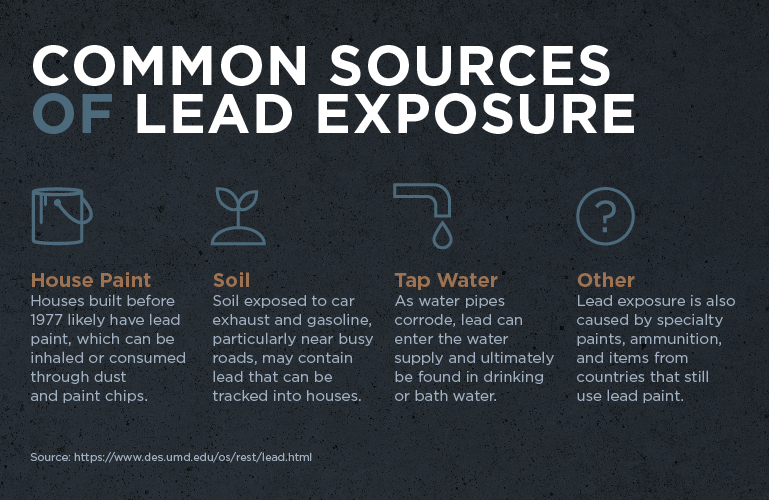 Water Contamination
In older homes, lead can infiltrate water supplies through lead plumbing materials like pipes and faucets. When they are flooded with corrosive water, lead plumbing materials leak lead into the water supply. This is what happened in Flint and, overall, reports estimate that 10 to 20 percent of lead exposure comes from contaminated water. Local health officials should urge their communities to get information about lead content in home water supply, by contacting their water supplier, who may offer in-home testing. If not, residents can also purchase a testing kit and send samples to a laboratory for processing.
Interim solutions for contaminated water vary in cost and effectiveness, but there are options to explore at home while waiting for officials to address water supply issues. Residents can ensure they are consuming clean water in by drinking bottled water or installing a high quality filtration system. In low-risk situations, running cold water from the faucet can reduce lead content before using it to cook or bathe.
Paint Contamination
Historically, due to being a common source of lead poisoning, lead-based paint in homes was banned in 1978. Though it is no longer used, those living in older homes or apartments should be advised to check the lead status of their residence. Older lead paint, sometimes covered by many layers of unleaded paint, can crumble into flakes, chips and dust especially dangerous for children if consumed or inhaled. Lead paint can also be found in antique furniture and toys that were made before the 1970s, a source that is often overlooked in household belongings.
Local health officials should encourage community members to engage a professional to perform a paint inspection and a risk assessment as that is the most effective method to ensure the safety of a residence. An inspection will inform an individual if their home has any lead paint and where it is, and the assessment will determine the lead hazards from paint, dust or soil.
Soil Contamination
According to the University of Minnesota, soil is most commonly contaminated by lead-based paint from older buildings or lead from car emissions. Soil lead levels are shown to be higher around building foundations near busy streets. The best way to determine if soil has been contaminated by lead is to administer a test through a nationally accredited lab. This ensures a safe and accurate reading.
To keep children free from contamination from soil, the Illinois Poison Center recommends a series of precautions for safe outdoor play, which include washing hands after playing or eating outside; keeping play away from building foundations, old buildings, roads, and underneath porches; washing toys that have been outside; and maintaining sandboxes with clean sand.
Let's Take Action!
Lead poisoning poses serious health risks for both children and adults. Local health departments should always advise those concerned of lead exposure, to contact their doctor or family nurse practitioner. Awareness is essential in preventing lead poisoning. It is vital for local health officials to ensure their community is educated and vigilant.
***
This blog and infographic (pictured above) was developed by Nursing@USC, the online family nurse practitioner program at the University of Southern California's Suzanne Dworak-Peck School of Social Work.