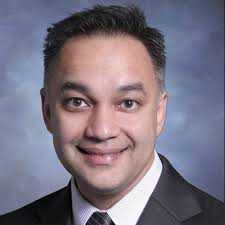 By Umair A. Shah, MD, MPH, NACCHO President and Executive Director of Harris County Public Health in Houston, Texas
The Journal of School Health defines health advocacy as "The processes by which the actions of individuals or groups attempt to bring about social and/or organization change on behalf of a particular health goal, program, interest, or population." 1 It is also one of the main pillars of public health. Local health departments depend on policymakers to enact laws that make our communities safe and promote healthy living. Every day, federal, state, and local decision-makers discuss a myriad of issues, including those related to public health. Through the power of advocacy, we have seat belt, tobacco prevention, safe drinking water, and nutrition labeling laws, just to name a few. For the betterment of our communities, it is imperative that public health professionals who possess expertise and experience in the field, educate lawmakers through evidence-based research.
Advocating for public health doesn't have to be left solely up to the experts. Informed citizens also have the power to educate and influence their elected officials about critical public health issues. Constituents who call and send emails to their Members of Congress, state and local leaders, and highlight the importance of public health programs are just as important as the experts that advocate on Capitol Hill. Additionally, communicating with lawmakers isn't limited to just phone calls and emails. Social media has become a major platform for constituents to voice their concerns about particular public health issues.
How Local Jurisdictions Advocate for Public Health
As a local public health official, navigating the political landscape can be difficult. Worries of legislation that can potentially cut public health funding and budgets are always looming. Elected officials depend on local health department leaders and staff to educate them about what is happening in their communities. Advocacy comes in many forms of congressional outreach, for example:
Meeting with a Member of Congress, or other elected leaders, to discuss the importance of funding to prevent the spread of Zika in your community;
Gathering and emailing success stories from your local health department programs;
Tweeting statistics about sexually transmitted diseases (STDs) and descriptions of how local health departments are working to reduce STD rates; and
Distributing a weekly e-newsletter discussing the opioid epidemic with statistical and factual information, while highlighting public health programs that have been proven effective in addressing the crisis.
As indicated in The NACCHO Advocacy Toolkit, effectively implementing these advocacy efforts can build relationships with policymakers; influence lawmakers' decisions; promote the creation of new programs; and alter existing policies.2 The Toolkit also offers tips on how to effectively communicate with Members of Congress, including:
Prepare and practice the message;
Make sure the message is clear, concise, and compelling;
Frame the message to answer the question, "So what?";
Present yourself as an expert resource and provide examples from your community; and
Be confident.
There are plenty of opportunities to meet with policymakers and their staff. Not only are Members of Congress available in Washington D.C., but they are also accessible in their home districts during recess periods. During that time, it is important to contact Members to schedule a meeting or invite them to your local health department.
At my health department, Harris County Public Health (HCPH) in Texas, we engage policy-makers on a regular basis. To facilitate this, we created the Office of Policy and Planning (OPP). Within OPP, we have staff who previously worked for elected officials. This gives them a deep understanding of the complexities surrounding legislative policy. A major responsibility of OPP is to keep their pulse on the happenings in federal, state, or local political bodies to ensure HCPH is ready to engage with policymakers at opportune times. A great example of this is when Congress was apprehensive to provide the necessary funding to address Zika. OPP was able to identify and capitalize on an opportunity to invite Senator Cornyn to HCPH and explore our innovative work in mosquito control. Within two hours of his visit to our campus, we were able to discuss the dangers that Zika presented to Texans, especially pregnant women and their unborn babies. A few weeks after his visit, Congress passed a bill to provide $1.1 billion in funding for Zika. Of course, there is much more to the story than the two-hour visit by a single Senator, but it is hard to imagine any funding being allocated without a consistent chorus from public health advocates.
In addition to supporting our advocacy directly with elected officials, the team at OPP is acting in the role as the Chief Health Strategist with its partnership with the first-of-its-kind, Texas Medical Center (TMC) Health Policy course. The academic institutions at TMC, the world's largest medical center, have collaborated with HCPH to bring together a 13-week course. Each week a panel consisting of leaders in healthcare and public health discuss important aspects of policy that impacts healthcare and public health. One course objective is for panelists and attendees to explore the landscape of health policy and try to find alignment between healthcare and public health. Health policy advocacy is, in my opinion, most effective when healthcare and public health share a common goal and can communicate with a single message.
NACCHO Advocacy Resources
NACCHO has a number of resources dedicated to public health advocacy including toolkits, policy statements, fact sheets, videos, legislative and policy agendas, talking points, and other important information.
NACCHO's 2018 Federal Legislative and Policy Agenda serves as a guide for NACCHO government affairs staff to interact with Congress and address the issues that local health departments work tirelessly every day to combat. The agenda highlights priority issues recommended by NACCHO members and is approved by the Board of Directors. The resource also emphasizes dedicated funding for public health services.
The Building Your Advocacy Toolbox fact sheet identifies the differences between advocacy, education, and lobbying. Additionally, the fact sheet explains the importance of advocating for public health, provides examples of advocacy and lobbying activities, and discusses the different ways local health professionals and other constituents can reach out to their congressional representatives.
NACCHO makes it easy for anyone to reach out to their congressperson regarding important public health advocacy campaigns through their "Take Action" webpage. There, users can search specific legislation, find Members of Congress, and compose messages to their Senators through the pre-filled messaging template on particular campaigns.
For local health departments, it is especially important for department leaders to know which members in the House of Representatives and the Senate sit on which committees. NACCHO has developed a resource titled "Congressional Committees: How Do They Work and Which Ones Are Important to Public Health?" to help local health department leaders identify Members of Congress and their associated committees. Because several of the committees are relevant to public health, local health department leaders are encouraged to build relationships with the Members of Congress who hold committee leadership positions.
NACCHO's Week of Congressional Action
On February 28, NACCHO Board of Directors, State Association of County and City Health Officials, and Big Cities Health Coalition members will make their way to Capitol Hill as part of NACCHO's Week of Congressional Action, to meet with their Members of Congress and discuss the unique public health challenges they face in their communities. All members are encouraged to inform policymakers of the important work their health department does to keep communities healthy and safe. NACCHO's Advocacy Toolkit is available to assist in developing messages to policymakers about the importance of funding the Assistant Secretary of Preparedness and Response and Centers for Disease Control and Prevention. During this time, NACCHO will advocate for programs including Public Health Emergency Preparedness, Medical Reserve Corps, 317 immunization program, Diabetes and Heart Disease and Stroke prevention, and Antimicrobial Resistance.
Preparation and Vigilance is Key
Successful advocacy is not only defined by policy change, but also the way in which that policy affects communities. The government plays a big role in public health and its outcomes; thus, it is imperative that public health professionals communicate the needs of their communities and serve as a voice for those who are not as informed. Sometimes public health advocacy is met with opposition, therefore it is important to have proven, scientific facts to support your argument and remain tenacious. Be prepared to answer difficult questions about your advocacy campaign, which typically include the "who," "what," "when," and "where," but perhaps the most critical question, "Why?" Why is this campaign important? Why should people care? Ultimately, the nation depends on local health officials to maintain visibility at the federal, state, and local levels to ensure positive population health outcomes.