This post originally ran on NACCHO's Healthy People, Healthy Places blog. For more environmental health news and information, visit http://essentialelements.naccho.org/.
By Katie Regan, Communications Specialist, NACCHO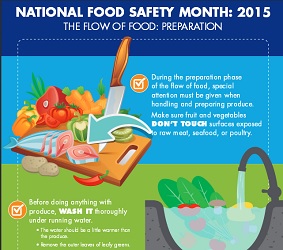 For much of the general public, the local health department is the place that inspects restaurants and assigns letter grades based on cleanliness. In reality, of course, the health department works on everything from climate change to STI prevention—but during the month of September, health officials may want to embrace public perception and emphasize their food inspection activities.
September marks the 21st annual National Food Safety Month, sponsored by the National Restaurant Association. First celebrated in 1994, the event is designed to heighten awareness about the importance of food safety education. Every year, National Food Safety Month introduces a new theme, and provides free training activities and posters to the restaurant and foodservice industry to help reinforce proper food safety practices and procedures. This year's theme, "Let it Flow," focuses on the flow of food through restaurants. Each week examines a different aspect of the food preparation process, including:
Week 1: Receiving
Week 2: Storage
Week 3: Thawing and Holding
Week 4: Preparation
Week 5: Service
According to the Centers for Disease Control and Prevention (CDC), every year roughly 1 in 6 Americans (or 48 million people) are sickened, 128,000 are hospitalized, and 3,000 die of preventable foodborne illnesses. Common pathogens spread by food and beverage include norovirus, salmonella, Campylobacter, E.coli, and Listeria. Common symptoms of foodborne illness, also called food poisoning, include diarrhea, vomiting, abdominal cramps, and fever. Some illnesses can even result in death.
Fortunately, foodborne illness can be prevented through proper food safety. According to CDC, 100 years ago typhoid fever, tuberculosis, and cholera were common foodborne illnesses—but through improvements in food safety such as pasteurization, safe canning, and disinfection, such diseases have largely been conquered. Simple steps to promote safe food handling and preparation include knowing how different types of foods should be stored, how they should be thawed and to what temperatures they should be cooked, and how to safety prepare and serve meals. Numerous educational resources, including infographics, videos, and activity kits are available for download from the National Restaurant Association, to aid local health departments in their own awareness campaigns.
Local health departments should be sure to include vulnerable populations, such as young children and the elderly, in their food safety awareness and education. These populations are most susceptible to negative outcomes when infected with a foodborne pathogen. Innovative educational campaigns, such as a New Jersey health department food safety calendar designed and illustrated by schoolchildren, can reach unexpected audiences and have overwhelmingly successful results.
Another important population to target is those with food allergies. Food allergies, often considered a "hidden disability," are abnormal responses to a food triggered by the body's immune system; sometimes these responses can be so severe, they cause death. Some of the foods most likely to trigger allergic reactions include milk, eggs, seafood, tree nuts, peanuts, wheat, and soybeans. Local health departments should strengthen their educational campaigns around food allergies and work with retail food establishments to develop food handling practices that prevent cross-contamination, thereby ensuring safe dining experiences for everyone.
Additionally, NACCHO has a number of resources available to support local health departments in their food safety planning and programming—not just during National Food Safety Month but year-round. NACCHO works with local health departments to improve food safety and prevent the illnesses that are estimated to cost more than $3,000 annually in hospitalizations, and between $20 and $40 billion each year in lost productivity.
Featured NACCHO resources include:
For more information: