By Bryan Chapman, CP-FS, Vice President of Strategic Development, StateFoodSafety.com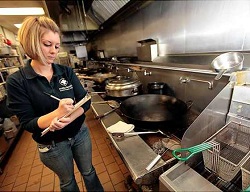 Since President Obama signed the Food Safety Modernization Act, the United States has shown more commitment to the discussion of food safety from farm to fork than perhaps at any other time. Statutory mandates for food safety training at all levels are increasing—right down to the local health department, where the majority of foodborne outbreaks are discovered and controlled. Even regulatory areas that do not require safety training are urging it, creating voluntary programs, or using evidence of training as inspection mitigation. This article will suggest three ideas for local health departments to support community commitment to food safety and protecting the public from dangerous outbreaks.
Recognition Programs
For jurisdictions that have no requirement for food safety training, or want to increase the awareness of food safety, creating a recognition program is an effective way to encourage the development of a food safety culture. A recognition program involves a local health department setting certain food safety parameters and detailing what qualifies an establishment to receive recognition from the program. If a health department chooses to develop a recognition program, it may set parameters such as percentages of employees who have taken and passed a food handler course, the number of managers who have been nationally certified, or an establishment that has no critical violations or scores above a set percentage. Qualifying establishments may be issued certificates, window clings, stickers, and other recognition items to display in their restaurants. They can also be listed on the health department's website as a qualifying establishment.
The hardest part about starting one of these programs can be getting the word out. Health departments can hold county-wide meetings and invite all retail food managers or restaurant owners to learn about the new program. Local media should also be invited to the meeting, and health departments should submit content announcing the program will be available to the establishments in the community, all of which can help to help inform the general public. Social media is another important asset—encourage owners, food managers, and food handlers to all take part in spreading the word.
Resources
Another great way to support food safety is to utilize the resources provided by outside sources. There are many quality resources available to local health departments that can help inspectors to be seen by local establishments as a partner or instructor. Resources are available through the Food and Drug Administration (FDA), the United States Department of Agriculture (USDA), StateFoodSafety.com, and many others. StateFoodSafety.com has compiled many of these resources into a free app called the Food Safety Toolkit (available on iOS and Android) for local health department officers and inspectors. This app conveniently provides access to all versions of the FDA food code, mini video modules on food safety topics, Council to Improve Foodborne Outbreak Response (CIFOR) guidelines, and recourses from the USDA. One of the special features of the app is the ability to share digital and printable resources with individuals and establishments.
Resources provided by inspectors to establishments can go a long way toward creating or maintaining a positive relationship, and encouraging managers to build a strong food safety culture in their establishment.
Local Food Safety Summits
And, finally, another way to support local food safety culture is to host a local food safety summit. Just this year, the Harris County Health Department, in Houston, TX, held a one day food safety summit in partnership with the University of Houston Conrad N. Hilton College of Hotel and Restaurant Management. The summit was very well attended by food service professionals and the feedback was tremendous. Speakers focused on topics applicable to a local audience, such as food safety culture and how to develop a strategic training approach. The summit opened up communication and provided a space for local food safety experts to connect, network, and brainstorm ways to improve food safety in their area. Local health departments can duplicate such an event to help serve and support the food safety culture in their own communities.
For more information:
StateFoodSafety.com is a food safety training company that serves environmental health agencies, other regulatory bodies, and their communities by delivering online learning solutions specifically designed for them. Their goal is to provide individuals and organizations with "A Better Learning Experience," which means delivering the best courses, the best technology, and the best service.