Injury and Violence Prevention
Injury and Violence Prevention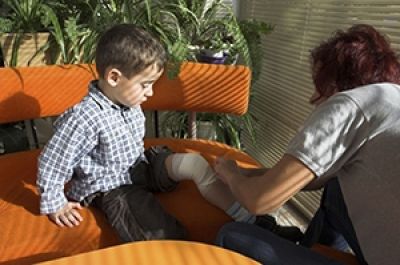 Injury is the leading cause of death for people between the ages of 1 and 45 in the United States, and millions more are injured and survive, only to then face life-long challenges. Injuries and violence affect everyone, and deaths from injury and violence tell only part of the story. Injury and violence prevention efforts aim to prevent unintentional injuries and violence, and to reduce their consequences.
Local health departments (LHDs) play an important role in coordinating the broader public health system's efforts to address the causes of injury and violence. LHDs are well suited to unite community partners to address the causes of injury- and violence-related inequities through policy, environment, and system change.
NACCHO, with support from the CDC, is accepting applications to participate in our Health Equity and Overdose Prevention Mentorship Program. This will be the second iteration of our mentorship program and will include opportunities for local health departments (LHDs) to learn from peers, share experiences and exchange strategies for integrating health equity into drug overdose prevention and response work.

There are separate mentee and mentor applications; requirements and full details of the project are available in the respective RFAs as well as their linked deliverable schedules. NACCHO hosted an informational webinar on July 27, 2022, to review this funding opportunity, the recording can be reviewed here, along with the FAQs here. If you have any questions, please email IVP@naccho.org.

Mentee applications are due by Friday, September 23, 2022 at 8:00pm and mentor applications are due by Friday, October 7, 2022 at 8:00pm ET. No exceptions. Please submit applications via email to IVP@naccho.org.
With support from the Centers for Disease Control and Prevention (CDC), National Association of County and City Health Officials (NACCHO) is pleased to announce a funding opportunity to build the evidence base for promising and best practices in overdose prevention at the intersection of public health and public safety in Overdose Response Strategy (ORS) states. Through this funding opportunity, NACCHO and CDC will award up to twelve applicants in different stages of their response to the overdose epidemic in one of the following categories:  

Categories of work: 
Planning Awards will be awarded up to $50,000 each.  
Implementation Awards will be awarded up to $80,000 each.  
Expansion Awards will be awarded up to $100,000 each. Eligibility is restricted to recipients that received the ORS Pilot Project, Implementation Award, in 2021-2022. Recipients of this award category will lose eligibility for continued funding on the same project following five consecutive years of receipt for their project but may receive funding after five years for a new project. 
For full details about the funding opportunity, please review the Request for Applications. Questions about the RFA and application process can be directed to Audrey Eisemann, Sr. Program Analyst at NACCHO (AEisemann@naccho.org).   
Application Submission: Please submit all applications and supporting materials using the online submission form.

Applications are due by 11:59 pm E.T. on October 3, 2022.

First responders have unique assets that make them well-suited for post-overdose outreach including 911 data, a community service mindset, and the public's trust and approval. They often conduct non-emergent outreach to address needs of the community, and post-overdose outreach can be included among these services. Fire and EMS agencies interested in joining a community of individuals facilitating connections to life-saving services for people who use drugs should speak with harm reduction coalitions, treatment organizations, and others directly serving people who use drugs in their community to determine how they can support the effort. In addition, the experienced Milwaukee Fire Department's post-overdose outreach team is available to help first responders and their partners develop a post-overdose outreach program. Please submit a request on https://www.postoverdose.com/
NACCHO's Injury & Violence Prevention (IVP) Program strengthens capacity of LHDs to effectively address the causes of injury and violence in their communities by creating learning opportunities, developing tools and resources, providing technical support, and facilitating peer exchange.
Community Health
Intersection of Suicide, Overdose, and ACEs
Learn about the intersection between suicide, overdose, and adverse childhood experiences.
Community Health
Intersection of Suicide, Overdose, and ACEs
The Injury and Violence Prevention team has developed several policies for topics such as:
Child Maltreatment Prevention
Firearm-Related Injury and Death Prevention
Graduated Driver Licensing
Injury and Violence Prevention
Medical and Recreational Cannabis and Cannabinoids
Motor Vehicle Safety Belts
Older Adult Fall Prevention
Opioid Epidemic
Suicide Prevention
Traumatic Brain Injury Prevention
Universal Motorcycle Helmet Laws
Youth Violence Prevention
You can find all of the policies and examples of letter to Congress, on the policies page.
To learn more about Injury & Violence Prevention, share LHD resources, or inquire about NACCHO's Injury & Violence Prevention portfolio, please contact us at info@naccho.org
Back to Top