Our Staff
Welcome to Our Staff Contact Page!
NACCHO is a thriving organization filled with more than 100 employees working to support local health initiatives.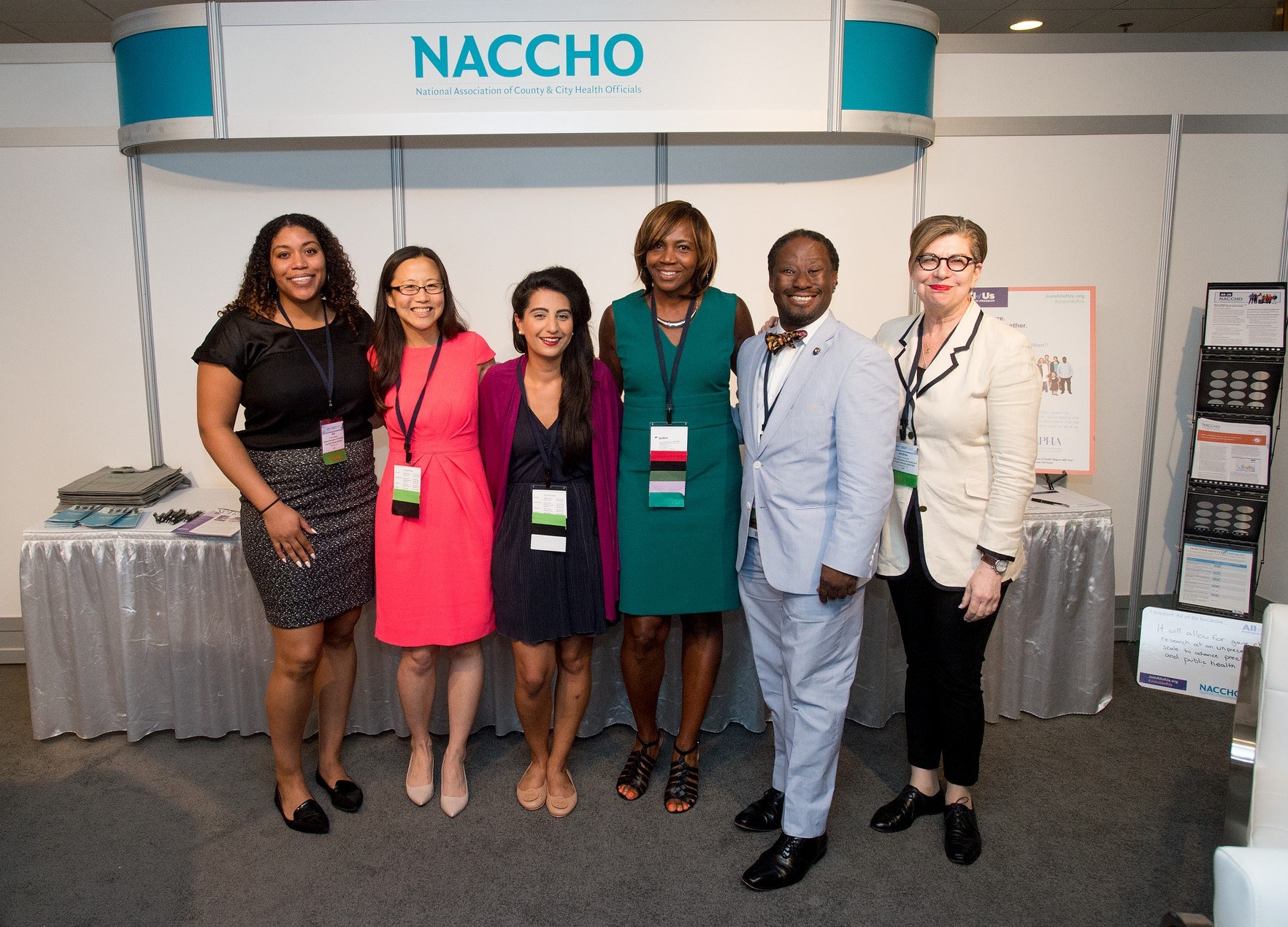 Use the resource below to find the contact information for NACCHO staff members. The list is ordered alphabetically. You can search for a specific name by using the search bar (on the left) or filter the results by department using the dropdown menu (on the right).

If you can't find the right person to contact, email [email protected]. Reporters can email [email protected].
Public Health Preparedness Program
Lean Abdelaziz
Senior Program Analyst, Preparedness
JavaScript is required to reveal this message. / email hidden; JavaScript is required
Community Health Program
Jaclyn Abramson
Program Analyst, Infectious Disease
JavaScript is required to reveal this message. / email hidden; JavaScript is required
Community Health Program
Camille Adams
Program Analyst, Injury and Violence Prevention
JavaScript is required to reveal this message. / email hidden; JavaScript is required
Environmental Health Program
Nicholas Adams
Senior Program Analyst, Environmental Health
JavaScript is required to reveal this message. / email hidden; JavaScript is required
Public Health Infrastructure and Systems
Jasmine Akuffo
Senior Program Analyst, Health Equity
JavaScript is required to reveal this message. / email hidden; JavaScript is required
Public Health Infrastructure and Systems
Brianna Aldridge
Program Analyst, Health Equity
JavaScript is required to reveal this message. / email hidden; JavaScript is required
Programs
Chris Aldridge
Senior Advisor
JavaScript is required to reveal this message. / email hidden; JavaScript is required
Research and Evaluation
Aaron Alford
Senior Director, Research & Evaluation
JavaScript is required to reveal this message. / email hidden; JavaScript is required
Government Affairs
Kerry Allen
Director, Government Affairs
JavaScript is required to reveal this message. / email hidden; JavaScript is required
Public Health Preparedness Program
Gideon Amaniel
Program Analyst, Preparedness
JavaScript is required to reveal this message. / email hidden; JavaScript is required
Meetings & Events
Sebastian Arguez
Manager, Affiliate Partnerships, Sponsorships & Exhibits
JavaScript is required to reveal this message. / email hidden; JavaScript is required
Research and Evaluation
Karissa Avignon
PHAP Associate
JavaScript is required to reveal this message. / email hidden; JavaScript is required
Research and Evaluation
Cortni Bardier
PHAP Associate
JavaScript is required to reveal this message. / email hidden; JavaScript is required
Public Health Preparedness Program
Annaleigh Baremore
Senior Program Assistant, Preparedness
JavaScript is required to reveal this message. / email hidden; JavaScript is required
Community Health Program
Christina Baum
Director, Infectious Disease
JavaScript is required to reveal this message. / email hidden; JavaScript is required
Community Health Program
Gezae Berhane
Senior Program Assistant, Overdose, Injury, and Violence Prevention
JavaScript is required to reveal this message. / email hidden; JavaScript is required
Public Health Preparedness Program
Laura Biesiadecki
Senior Director, Preparedness, Recovery and Response
JavaScript is required to reveal this message. / email hidden; JavaScript is required
Programs
Sara Black
Senior Advisor, Programs
JavaScript is required to reveal this message. / email hidden; JavaScript is required
Public Health Infrastructure and Systems
Hassanatu Blake
Director, Health Equity
JavaScript is required to reveal this message. / email hidden; JavaScript is required
Community Health Program
Matthew Bobo
Senior Director, Immunization/MCAH
JavaScript is required to reveal this message. / email hidden; JavaScript is required
Government Affairs
Lluvia Botello
Government Affairs Associate
JavaScript is required to reveal this message. / email hidden; JavaScript is required
Community Health Program
Graham Briggs
Senior Director, Infectious Disease & Informatics
JavaScript is required to reveal this message. / email hidden; JavaScript is required
Fiscal
Malcolm Brown
Senior Accountant
JavaScript is required to reveal this message. / email hidden; JavaScript is required
Public Health Preparedness Program
Sarah Callahan
Program Analyst, Preparedness
JavaScript is required to reveal this message. / email hidden; JavaScript is required
Human Resources
Travis Campbell
HR Business Partner
JavaScript is required to reveal this message. / email hidden; JavaScript is required
Office Services
Mary Ann Carr
Office Services Associate
JavaScript is required to reveal this message. / email hidden; JavaScript is required
Public Affairs
Adriane Casalotti
Chief, Government & Public Affairs
JavaScript is required to reveal this message. / email hidden; JavaScript is required
Membership
Dominic Catalfamo
Director, Membership & Meetings
JavaScript is required to reveal this message. / email hidden; JavaScript is required
Membership
John Caudle
Membership Specialist, Operations
JavaScript is required to reveal this message. / email hidden; JavaScript is required
Fiscal
Jerome Chester
Chief Financial Officer
JavaScript is required to reveal this message. / email hidden; JavaScript is required
Office of the Chief Executive Officer
Tia Christian-Hunt
Executive Management Analyst to the Chief Executive Officer
JavaScript is required to reveal this message. / email hidden; JavaScript is required
Public Health Infrastructure and Systems
Anna Clayton
Program Analyst
JavaScript is required to reveal this message. / email hidden; JavaScript is required
Human Resources
Harold Coleman
Manager, Benefits, Paycom, Payroll
JavaScript is required to reveal this message. / email hidden; JavaScript is required
Research and Evaluation
Margaret Cunningham
Senior R&E Specialist
JavaScript is required to reveal this message. / email hidden; JavaScript is required
Meetings & Events
Annabel Davis
Public Health Partnership Specialist
JavaScript is required to reveal this message. / email hidden; JavaScript is required
Community Health Program
Lane Davis
Senior Program Analyst, Overdose Prevention
JavaScript is required to reveal this message. / email hidden; JavaScript is required
Community Health Program
Victoria Decea
Program Analyst, Immunization
JavaScript is required to reveal this message. / email hidden; JavaScript is required
Public Health Preparedness Program
Katherine Deffer
Director of Preparedness
JavaScript is required to reveal this message. / email hidden; JavaScript is required
Research and Evaluation
Debra Dekker
Director of Evaluation
JavaScript is required to reveal this message. / email hidden; JavaScript is required
Communications
Phyllis Dickerson Johnson
Director of Communications
JavaScript is required to reveal this message. / email hidden; JavaScript is required
Public Health Infrastructure and Systems
Ashley Edmiston
Director, Workforce Development
JavaScript is required to reveal this message. / email hidden; JavaScript is required
Community Health Program
Audrey Eisemann
Senior Program Analyst, Overdose, Injury, and Violence Prevention
JavaScript is required to reveal this message. / email hidden; JavaScript is required
Community Health Program
Maxine Eyeson
Associate Project Manager, Chronic Disease and Disability
JavaScript is required to reveal this message. / email hidden; JavaScript is required
Public Health Preparedness Program
Michelle Ezeofor-Andrews
Director of Preparedness
JavaScript is required to reveal this message. / email hidden; JavaScript is required
Fiscal
David Faison
Accounting Manager
JavaScript is required to reveal this message. / email hidden; JavaScript is required
Community Health Program
Elana Filipos
Program Analyst, Maternal, Child & Adolescent Health
JavaScript is required to reveal this message. / email hidden; JavaScript is required
Public Health Preparedness Program
Abigail Franken
Programs
JavaScript is required to reveal this message. / email hidden; JavaScript is required
Office of the Chief Executive Officer
Lori Freeman
Chief Executive Officer
JavaScript is required to reveal this message. / email hidden; JavaScript is required
Community Health Program
Victoria Freire
Senior Program Analyst, Rural Health
JavaScript is required to reveal this message. / email hidden; JavaScript is required
Public Health Preparedness Program
Deise Galan
Senior Program Analyst, Public Health Preparedness
JavaScript is required to reveal this message. / email hidden; JavaScript is required
Community Health Program
Sabrina Gandy
Senior Program Analyst, HIV, STI
JavaScript is required to reveal this message. / email hidden; JavaScript is required
Research and Evaluation
Chloe Garofalini
Research & Evaluation specialist
JavaScript is required to reveal this message. / email hidden; JavaScript is required
Programs
Kalikidan Gizaw
Senior Program Analyst, Refugee & Immigrants
JavaScript is required to reveal this message. / email hidden; JavaScript is required
Human Resources
Ina Goocharan
Senior HR Generalist
JavaScript is required to reveal this message. / email hidden; JavaScript is required
NACCHO Consulting
Tahlia Gousse
Consulting Specialist
JavaScript is required to reveal this message. / email hidden; JavaScript is required
Community Health Program
Eryn Greaney
Project Manager
JavaScript is required to reveal this message. / email hidden; JavaScript is required
Public Health Infrastructure and Systems
Deya Greer
Senior Program Analyst, Performance Improvement
JavaScript is required to reveal this message. / email hidden; JavaScript is required
Public Health Infrastructure and Systems
Andrea Grenadier
Marketing & Communications Specialist
JavaScript is required to reveal this message. / email hidden; JavaScript is required
Environmental Health Program
Chelsea Gridley-Smith
Director of Environmental Health
JavaScript is required to reveal this message. / email hidden; JavaScript is required
Community Health Program
Irene Halferty
Communication Specialist, Infectious Disease
JavaScript is required to reveal this message. / email hidden; JavaScript is required
Community Health Program
Dawn Hairston
Project Manager, Infectious Disease
JavaScript is required to reveal this message. / email hidden; JavaScript is required
Research and Evaluation
Kellie Hall
Lead Analyst, Evaluation & Data Communications
JavaScript is required to reveal this message. / email hidden; JavaScript is required
Community Health Program
Daniel Hamilton
Programs Analyst, Chronic Disease
JavaScript is required to reveal this message. / email hidden; JavaScript is required
Community Health Program
Xander Hazel-Groux
Senior Program Assistant, Immunization
JavaScript is required to reveal this message. / email hidden; JavaScript is required
Public Health Preparedness Program
Beth Hess
Communications Specialist
JavaScript is required to reveal this message. / email hidden; JavaScript is required
Community Health Program
Francis Higgins
Senior Program Analyst, Overdose Prevention
JavaScript is required to reveal this message. / email hidden; JavaScript is required
Communications
Nicholas Holmes
Communication Specialist
JavaScript is required to reveal this message. / email hidden; JavaScript is required
Public Health Infrastructure and Systems
Peter Holtgrave
Senior Director, PHIS
JavaScript is required to reveal this message. / email hidden; JavaScript is required
Community Health Program
Rebekah Horowitz
Director, STI Programs
JavaScript is required to reveal this message. / email hidden; JavaScript is required
Information Technology
David Howard
IT Associate Specialist
JavaScript is required to reveal this message. / email hidden; JavaScript is required