Apply for an Award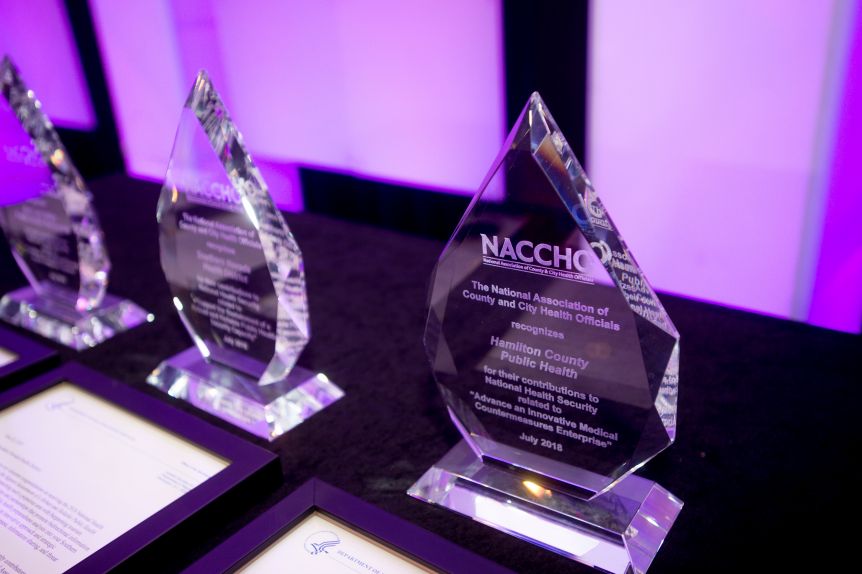 Each year, NACCHO recognizes the remarkable accomplishments of local health departments and health officials through the following awards. Winners are honored at a special ceremony and reception at the NACCHO 360 Conference.


Below are descriptions for all annual awards, including eligibility and submission requirements. For more information, please contact awards@naccho.org.
NACCHO is proud to announce its 2021 Innovative Practice Award Winners. Visit the Innovative Practice Award Database to learn more about the award-winning programs developed in response to the COVID-19 pandemic.
| Presented to | for an innovative program |
| --- | --- |
| Albany County Department of Health | Collaboration to Advance Mobile COVID-19 Testing in Underserved Communities |
| County of San Diego Health & Human Services Agency | San Diego County COVID-19 Response - Academic Detailing by Zip Code |
| Florida Department of Health in Seminole County | Community Integrated Mobile Health Services |
| Jefferson County Department of Health | Online Naloxone Program |
| Broome County Health Department | Broome County Mobile COVID-19 Rapid Testing Site |
| Pima County Health Department | Mitigating the Impact of COVID-19 in Communities of Color |
| Florida Department of Health in Pinellas County | Mitigating the Spread of COVID-19 in People Experiencing Homelessness |
| Metro Denver Partnership for Health | COVID-19 Response |
| Presented to | for an innovative program |
| --- | --- |
| County of San Diego Health and Human Services Agency | Operationalizing the Live Well San Diego Framework: a Population Health Approach to COVID19 Pandemic |
| Florida Department of Health in Hillsborough County | Virtual Programming to Expand Chronic Disease Education |
| Northampton Health Department | Regional Face Mask Distribution Program |
| Oswego County Health Department | Phone Bank to Promote Health Equity in the Pandemic Response in a Rural County |
| Rensselaer County Department of Health | Naloxone Now- Free Contactless Delivery of Narcan |
| Presented to | for an innovative program |
| --- | --- |
| Anne Arundel County Department of Health | Strengthening Families Program |
| Bismarck-Burleigh Public Health | Promoting Influenza Vaccine During a Pandemic: Strategies from Local Public Health |
| County of San Diego Health and Human Services Agency | Operationalizing the Live Well San Diego Framework during the COVID-19 Pandemic: COVID-19 Prevention Hygiene Kit Distribution Program |
| County of San Diego Health and Human Services Agency | Cross-border (San Diego-Tijuana) COVID-19 collaboration |
| El Paso County Public Health | Supporting Data-based Dialogue During the COVID-19 Pandemic |
| Florida Department of Health in Broward County | Implementation of Mass Prophylaxis Plan for COVID19 Testing |
| Florida Department of Health in Broward County | COVID PH Safety: Fit Testing and Don/Doff Training: AHCA, County, Nat'l Guard, DOH, Nurses |
| Franklin County Health Department | COVID 19 Testing Drive Thru Clinics |
| Houston Health Department | Better. Together. COVID-19 Communications and Outreach Campaign |
| Johnson County Public Health | Integration Of An Online Survey Tool To Streamline COVID-19 Case Investigations |
| Louisville Metro Public Health and Wellness | Health Equity During a Pandemic |
| Nassau County Department of Health | COVID-19 Workforce Response |
| NYC Department of Health and Mental Hygiene | Adapting in a Time of Crisis: A New Style of Providing Technical Assistance |
| PHSKC Environmental Health Services Division | Safe Start for Taverns & Restaurants (SSTAR) Program |
| Public Health – Seattle & King County | Monitoring & evaluation of COVID-19 impacts on social, economic & overall health |
| San Antonio Metropolitan Health District | Congregate Settings COVID Response Team |
| San Antonio Metropolitan Health District | Community Outreach & Communications: San Antonio's Approach to COVID-19 in Communities of Color |
| Snohomish Health District | Child Care Health Outreach Program, Maternal & Child Health, Prevention Services |
| Tarrant County Public Health | Adapting Delivery - Curbside WIC Services During COVID-19 |
| Tri-County Health Department | Developing a Homegrown, GIS-Based COVID-19 Case Investigation and Contact Tracing Software System by Leveraging Existing Internal Technology |
| Presented to | for an innovative program |
| --- | --- |
| Alexandria Health Department | ALX Promise: Bridging Public Health and Economic Recovery |
| Town of Brookline | Brookline Department of Public Health |
| Carlton County Public Health & Human Services | Drive Through Immunization Clinic |
| Cobb & Douglas Public Health | Power in Truth: The 2020 Virtual Experience |
| County of San Diego Health and Human Services Agency | Community Health Worker Communication and Outreach Services |
| Denver Public Health | Innovative data integration techniques to streamline COVID Case Management |
| El Paso County Public Health | COVID-19 Regional Recover Council: A Balanced Approach to Public and Economic Health |
| Florida Department of Health in Hillsborough County | Transforming WIC Program Services to Provide Uninterrupted Access to Care |
| Florida Department of Health – St. Lucie | Drive Thru HIV/STI Testing |
| Harris County Public Health | Evaluating the COVID-19 Response through an In-Action Review (IAR) |
| Houston Health Department | Houston COVID-19 Testing Plan to Address Access and Equity |
| Ionia County Health Department | Providing Fruits and Vegetables to At-Risk Families during the COVID-19 Crisis |
| Jefferson County Department of Health | Public Safety Expedited COVID-19 Testing Program |
| Maricopa County Environmental Services Department | Introducing Virtual Food Safety Inspections at Long-Term Care and Other Food-Related Facilities |
| Madison County Department of Health | SARS-CoV2 Early Warning Surveillance Platform (SARS2-EWSP) |
Back to Top