Apply for an Award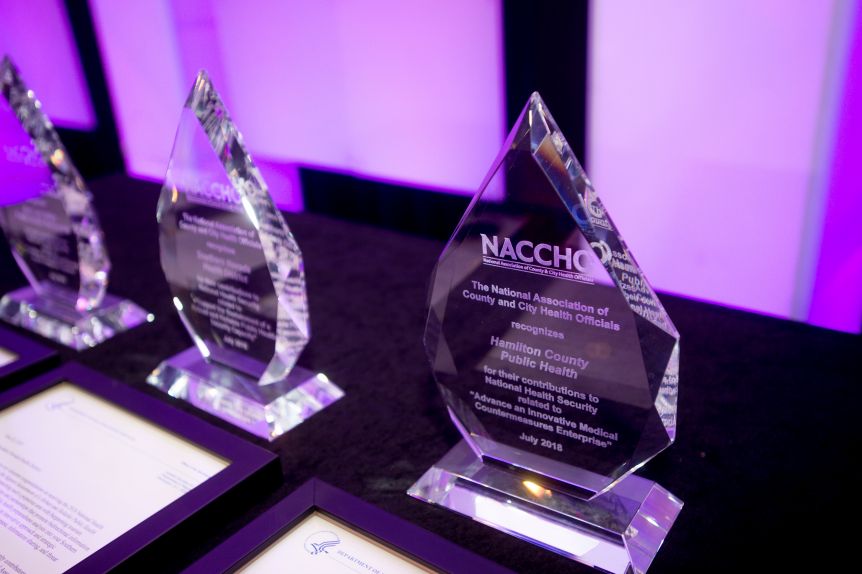 Each year, NACCHO recognizes the remarkable accomplishments of local health departments and health officials through the following awards. Winners are honored at a special ceremony and reception at the NACCHO 360 Conference.


The following awards are currently accepting applications. Please use the links below to begin your application.
Register here for the 2022 Model and Innovative Practice Awards Informational Webinar on Thursday, November 4th at 3 PM EST.
Below are descriptions for all annual awards, including eligibility and submission requirements. For more information, please contact awards@naccho.org.
NACCHO is proud to announce its 2021 Innovative Practice Award Winners. Visit the Innovative Practice Award Database to learn more about the award-winning programs developed in response to the COVID-19 pandemic.
| Presented to | for an innovative program |
| --- | --- |
| Albany County Department of Health | Collaboration to Advance Mobile COVID-19 Testing in Underserved Communities |
| County of San Diego Health & Human Services Agency | San Diego County COVID-19 Response - Academic Detailing by Zip Code |
| Florida Department of Health in Seminole County | Community Integrated Mobile Health Services |
| Jefferson County Department of Health | Online Naloxone Program |
| Broome County Health Department | Broome County Mobile COVID-19 Rapid Testing Site |
| Pima County Health Department | Mitigating the Impact of COVID-19 in Communities of Color |
| Florida Department of Health in Pinellas County | Mitigating the Spread of COVID-19 in People Experiencing Homelessness |
| Metro Denver Partnership for Health | COVID-19 Response |
| Presented to | for an innovative program |
| --- | --- |
| County of San Diego Health and Human Services Agency | Operationalizing the Live Well San Diego Framework: a Population Health Approach to COVID19 Pandemic |
| Florida Department of Health in Hillsborough County | Virtual Programming to Expand Chronic Disease Education |
| Northampton Health Department | Regional Face Mask Distribution Program |
| Oswego County Health Department | Phone Bank to Promote Health Equity in the Pandemic Response in a Rural County |
| Rensselaer County Department of Health | Naloxone Now- Free Contactless Delivery of Narcan |
| Presented to | for an innovative program |
| --- | --- |
| Anne Arundel County Department of Health | Strengthening Families Program |
| Bismarck-Burleigh Public Health | Promoting Influenza Vaccine During a Pandemic: Strategies from Local Public Health |
| County of San Diego Health and Human Services Agency | Operationalizing the Live Well San Diego Framework during the COVID-19 Pandemic: COVID-19 Prevention Hygiene Kit Distribution Program |
| County of San Diego Health and Human Services Agency | Cross-border (San Diego-Tijuana) COVID-19 collaboration |
| El Paso County Public Health | Supporting Data-based Dialogue During the COVID-19 Pandemic |
| Florida Department of Health in Broward County | Implementation of Mass Prophylaxis Plan for COVID19 Testing |
| Florida Department of Health in Broward County | COVID PH Safety: Fit Testing and Don/Doff Training: AHCA, County, Nat'l Guard, DOH, Nurses |
| Franklin County Health Department | COVID 19 Testing Drive Thru Clinics |
| Houston Health Department | Better. Together. COVID-19 Communications and Outreach Campaign |
| Johnson County Public Health | Integration Of An Online Survey Tool To Streamline COVID-19 Case Investigations |
| Louisville Metro Public Health and Wellness | Health Equity During a Pandemic |
| Nassau County Department of Health | COVID-19 Workforce Response |
| NYC Department of Health and Mental Hygiene | Adapting in a Time of Crisis: A New Style of Providing Technical Assistance |
| PHSKC Environmental Health Services Division | Safe Start for Taverns & Restaurants (SSTAR) Program |
| Public Health – Seattle & King County | Monitoring & evaluation of COVID-19 impacts on social, economic & overall health |
| San Antonio Metropolitan Health District | Congregate Settings COVID Response Team |
| San Antonio Metropolitan Health District | Community Outreach & Communications: San Antonio's Approach to COVID-19 in Communities of Color |
| Snohomish Health District | Child Care Health Outreach Program, Maternal & Child Health, Prevention Services |
| Tarrant County Public Health | Adapting Delivery - Curbside WIC Services During COVID-19 |
| Tri-County Health Department | Developing a Homegrown, GIS-Based COVID-19 Case Investigation and Contact Tracing Software System by Leveraging Existing Internal Technology |
| Presented to | for an innovative program |
| --- | --- |
| Alexandria Health Department | ALX Promise: Bridging Public Health and Economic Recovery |
| Town of Brookline | Brookline Department of Public Health |
| Carlton County Public Health & Human Services | Drive Through Immunization Clinic |
| Cobb & Douglas Public Health | Power in Truth: The 2020 Virtual Experience |
| County of San Diego Health and Human Services Agency | Community Health Worker Communication and Outreach Services |
| Denver Public Health | Innovative data integration techniques to streamline COVID Case Management |
| El Paso County Public Health | COVID-19 Regional Recover Council: A Balanced Approach to Public and Economic Health |
| Florida Department of Health in Hillsborough County | Transforming WIC Program Services to Provide Uninterrupted Access to Care |
| Florida Department of Health – St. Lucie | Drive Thru HIV/STI Testing |
| Harris County Public Health | Evaluating the COVID-19 Response through an In-Action Review (IAR) |
| Houston Health Department | Houston COVID-19 Testing Plan to Address Access and Equity |
| Ionia County Health Department | Providing Fruits and Vegetables to At-Risk Families during the COVID-19 Crisis |
| Jefferson County Department of Health | Public Safety Expedited COVID-19 Testing Program |
| Maricopa County Environmental Services Department | Introducing Virtual Food Safety Inspections at Long-Term Care and Other Food-Related Facilities |
| Madison County Department of Health | SARS-CoV2 Early Warning Surveillance Platform (SARS2-EWSP) |
Back to Top