Public Health Transformation
Public Health Transformation
Welcome to NACCHO's Public Health Transformation page. Here, you will find all of our best resources on transforming your LHD into a more effective organization.
If you have any questions or concerns, please email us at info@naccho.org.
A recent assessment of local health departments around the country helped to inform a roadmap and toolkit to help local health departments tackle population health in their communities. Information from those interviews fell into four themes: Building a Culture of Population Health, Leading the Movement, Tapping into External Resources, and Developing Staff Capacity. Click here for the Report's executive Summary and here for the toolkit.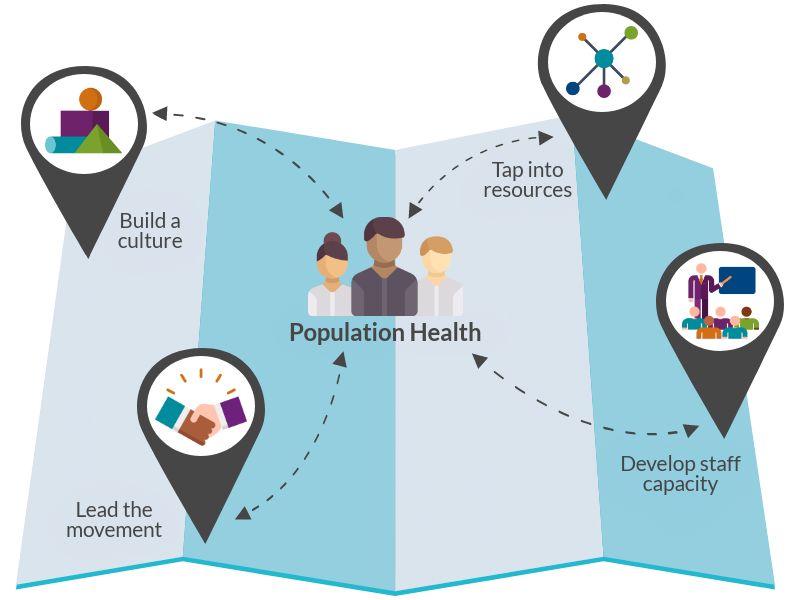 The following one-pagers provide suggestions and resources for building capacity within the health department to address population health.
The following one-pagers provide suggestions and resources for maintaining partnerships and utilizing external community resources.
"On December 7, 2017 the Round-table on Population Health Improvement held a 1-day, public workshop in Oakland, California to address the use of tax policies to channel resources and shape economic incentives affecting population health. The workshop began with a "tax policy 101" overview. Other presentations and discussion ranged from design of tax policies to advance a range of health and economic goals, to practical conditions that affect the use of tax policy in particular contexts. On April 30th, 2018, a webinar on commodity tax policy and how it can help shape community conditions for health and health equity served as a follow-up to the December 2017 workshop
You can view the workshop agenda and materials, including a video, here. A proceedings in brief has been published here, and a full-length proceedings is forthcoming.
Attached, you'll find a listing of partners and funders for the Public Health Transformation program.
Back to Top