Public Health AmeriCorps
The goal of the Public Health AmeriCorps program is to support the recruitment, training, and development of the next generation of public health leaders. With support from the Centers for Disease Control, NACCHO is working to support local health departments' engagement with the program. This webpage will serve as a resource for LHDs to provide information and resources.
Calling All Local Health Departments!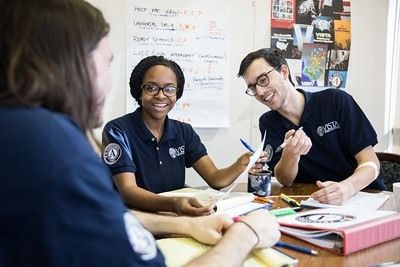 Expand your reach and promote healthier communities by hosting a Public Health AmeriCorps member. If you represent a local health department and would like to find out more about hosting an AmeriCorps member, please fill out this brief form. We will follow up with you to connect you to the resources and information you need to get started.
Photo credit: AmeriCorps
How can a local health department apply to become a host site for an AmeriCorps member?
Most often, local health departments looking to become a host site for an AmeriCorps member must apply through their state commission.
My state commission is not offering Public Health AmeriCorps placements right now. Is there another way I can host an AmeriCorps member?
Some non-governmental organizations work across states to place members in local health departments. For example, the American Heart Association, National Association of Chronic Disease Directors, and universities like Arizona State University work to fill disease- and topic-specific needs in local health departments with AmeriCorps members.
For a list of grantees that are not state commissions, please visit the following page: Public Health AmeriCorps | AmeriCorps
What skills do Public Health AmeriCorps members possess?
Public Health AmeriCorps members have a wide array of expertise levels. Members range from high-school graduates to recent MPH graduates to retired health workers. Health departments can work with their state commissions or other grantees to communicate specific skills needed to ensure appropriate placement of AmeriCorps members.
For how long are Public Health AmeriCorps members assigned to a local health department?
Public Health AmeriCorps members typically serve for 11 months. Members can work either full-time or part-time, depending on the needs of the health department.
View this recording of an informational webinar put on by NACCHO, CDC, AmeriCorps, and Big Cities Health Coalition to discuss Public Health AmeriCorps and hear from 2 speakers from the field about their success with Public Health AmeriCorps members (Houston Health Department and Kentucky Health Departments Association).
Public Health AmeriCorps in the News
For more information on our Public Health Americorps program, please feel free to reach out to Kathleen Semansky.
Public Health Infrastructure and Systems
Ashley Edmiston
Director, Workforce Development
JavaScript is required to reveal this message. / email hidden; JavaScript is required
Public Health Infrastructure and Systems
Kathleen Semansky
Senior Program Analyst, Workforce Development
JavaScript is required to reveal this message. / email hidden; JavaScript is required
Public Health Infrastructure and Systems
Mackenzie Galloway
Program Analyst, Workforce Development
JavaScript is required to reveal this message. / email hidden; JavaScript is required
Back to Top