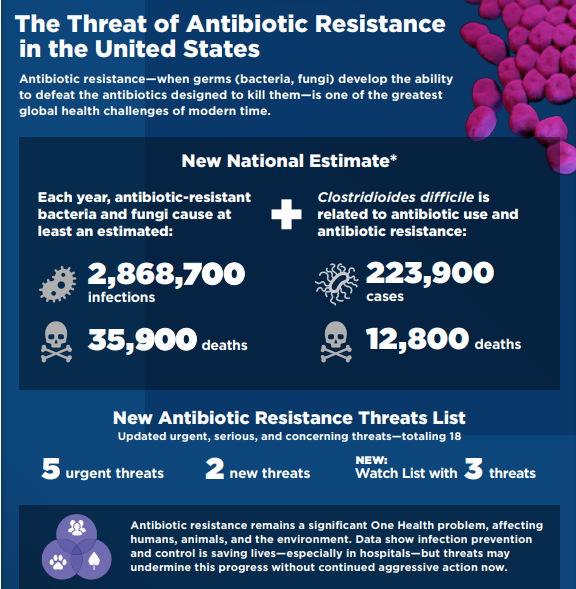 Healthcare-associated infections (HAIs) occur in about one out of every 31 hospital patients. In 2015, the last year for which data are available, this resulted in 72,000 deaths attributed to HAIs. Antimicrobial resistance (AMR) is a major public health threat which compounds the challenge of HAIs. Antibiotic-resistant infections cause over 35,000 deaths each year and nine of the top 18 infections considered to be the highest antibiotic-resistance threats are often associated with healthcare settings.
Local health departments (LHDs) can play a vital and diverse role in HAI/AMR prevention and response, identifying and investigating HAIs, providing recommendations for control measures, and monitoring antimicrobial resistance trends. HAI/AMR prevention efforts undertaken by LHDs also include providing education on HAI prevention and antimicrobial stewardship to healthcare providers, community partners, and the public. LHDs have unique advantages in being able to proactively prevent the spread of HAIs and antimicrobial resistance because of their ongoing relationships with local healthcare facilities, community members, and other partners.
LHD capacity to engage in HAI prevention activities can be constrained by a number of factors and often limited funding and competing priorities make it difficult to devote staff time to develop educational materials and training resources. According to NACCHO's Forces of Change survey, the majority of LHDs have consistently experienced funding and staffing challenges for over ten years. Leveraging existing materials and learning from other LHD experiences can be a useful strategy to better utilize limited time and resources.
In addition to state health departments, Chicago, Houston, Los Angeles, New York, and Philadelphia (as well as the District of Columbia) receive direct funding through the CDC's Epidemiology and Laboratory Capacity for Prevention and Control of Emerging Infectious Diseases (ELC) grants to support their HAI programs. ELC funding was established to strengthen public health capacity related to infectious disease and has since allowed the six funded LHDs to invest in expanding their HAI work, including through the development and implementation of educational interventions to reduce inappropriate antibiotic use. While most LHDs do not receive this type of funding, these efforts present an opportunity for other city and county health departments to leverage the materials and resources these sites have developed as they pursue similar activities.
NACCHO worked with LHD staff at each of the ELC directly funded cities to highlight some of the materials they have developed that could be useful to other LHDs interested in pursuing this work.
Chicago Department of Public Health (CDPH)
Los Angeles County Department of Public Health
Antibiogram: Antibiograms summarize antimicrobial susceptibility for selected bacterial pathogens and provide comprehensive information about local antimicrobial resistance. This LA County multi-facility antibiogram aggregates data mandatorily reported from 86 acute care facility-level antibiograms. The LA County Department of Public Health is using this regional antibiogram to monitor and investigate antibiotic resistance across the county.
Stewardship Practices in Nursing: This resource aims to inform nurses about how they can support antimicrobial stewardship efforts.
Philadelphia Department of Public Health (PDPH)
Antibiotic Awareness Graphic: This poster was created to raise awareness about the appropriate use of antibiotics. It was specifically designed to be featured during antibiotic awareness week on digital displays around the city, in several public and private institutions, and in their quarterly newsletter.
Antibiotic Stewardship Commitment Posters: PDPH created three different versions of an antibiotic stewardship commitment poster that providers can display at their practices.
Hand hygiene audit tools: PDPH created three different versions of hand hygiene audit tools that infection preventionists or hand hygiene champions can use to perform monthly audits.
New York City Department of Health and Mental Hygiene (NYC DOHMH)
Handbook for Infection Control in Nursing Homes: With the support from the ELC for Infectious Disease Cooperation Agreement, NYC DOHMH was able to assess over 40% of all New York City nursing homes from September 2016—July 2017 in infection control practices using the CDC Infection Control Assessment and Response (ICAR) Program. A common theme of these assessments was the need for a quick reference guide that infection preventionists and other nursing staff could utilize in their day to day work. The NYC DOHMH Handbook for Infection Control in Nursing Homes was an attempt to meet this need by combining a review of CDC-recommended best practices for infection control in nursing homes, links to reference materials, and local creative approaches to improve infection control practices shared during the ICAR assessments.
Key Infection Control Practices for Outpatient Health Care Settings: NYC DOHMH became aware in early 2019 of an acute hepatitis C outbreak in a provider's outpatient practice. As part of the response, the Commissioner of Health emailed a "Dear colleague" letter to over 37,000 healthcare providers, reminding them of their responsibility to prepare and administer parenteral medications safely and encouraging them to review the adequacy of their infection control practices. This tool was drafted to complement the letter, which contained a hyperlink to this document.
Antibiogram Resources: This compilation of resources includes tools used in developing the New York City antibiogram, the 2017 antibiogram report, and a template letter that could serve as a helpful template for other local health departments.