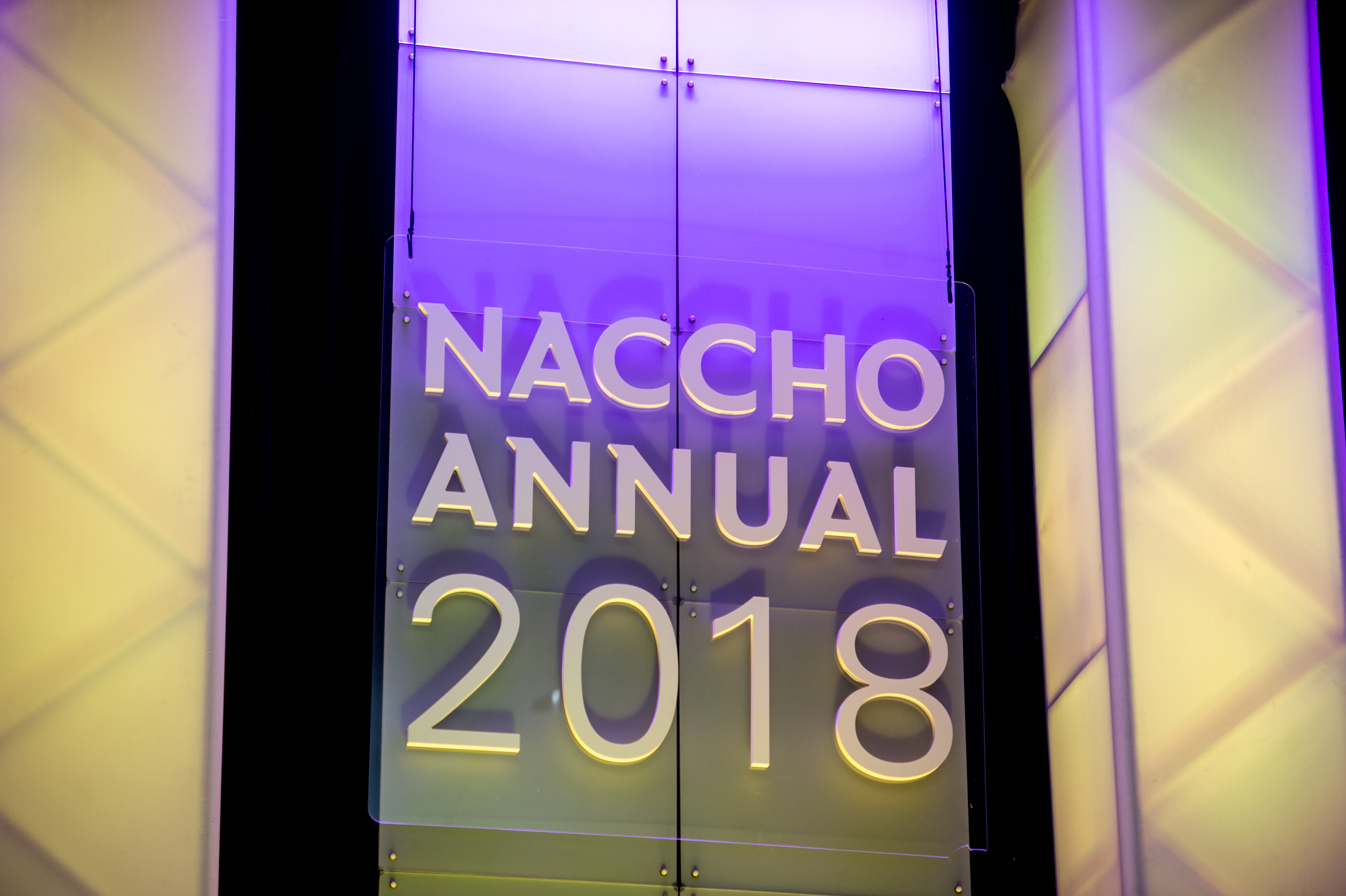 By Taylarr Lopez, Communications Specialist, NACCHO
On July 10–12, over 1,200 local public health professionals convened in New Orleans for the 2018 NACCHO Annual Conference. Throughout the conference, attendees learned from leading experts in the field, gained new insights in dozens of sharing sessions, and addressed the challenges affecting the work of local health departments (LHDs) and the nation's health.
This year's conference theme, "Unleashing the Power of Local Public Health," encouraged conversations about how effective multi-sectoral partnerships, policymaking, and increased visibility of the work of public health can improve population health outcomes. Although each general session possessed its own focus, all expressed the importance of amplifying the work of LHDs, effectively addressing social determinants of health, and emphasized the power in storytelling, in addition to evidence-based research, to effect policy change.
The conference hosted several opportunities for attendees to network with peers and make professional connections. Guests took part in various social events including the President's welcome reception, the new member breakfast, and sponsored dinners. Attendees also participated in three different tours: the French Quarter History Tour, the French Quarter Phantoms and Vampire Tour, and the French Quarter Pest Control Tour.
Social media played an important role in connecting attendees. NACCHO staff and conference-goers were very active on Twitter; the conference hashtag, #NA18, generated over 14 million impressions in just three days. Attendees partook in a Twitter scavenger hunt, in which they searched for eight clues over the course of two days to win several prizes.
Tuesday: Unleashing the Power of the Public Health Workforce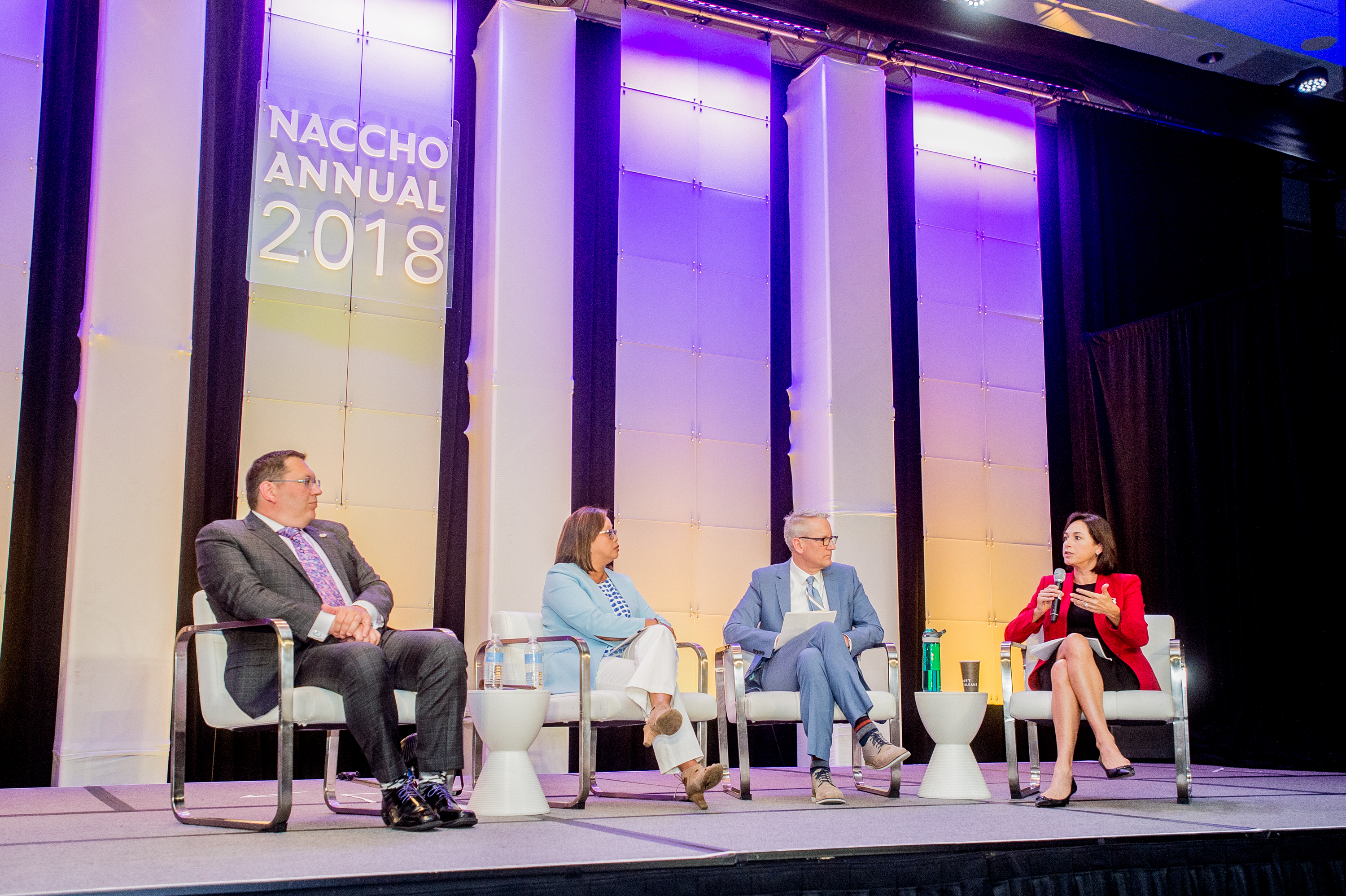 On the opening day of NACCHO Annual 2018, attendees participated in a variety of pre-conference sessions and were welcomed to New Orleans by Torrie Harris, DrPH, MPH, Health and Equity Strategist at the New Orleans Health Department.
To kick off the opening general session, new NACCHO President Kevin G. Sumner, MPH, Executive Director of the Middle-Brook Regional Health Commission (NJ), recognized outgoing President Umair A. Shah, MD, MPH, Executive Director of Harris County Public Health (TX); the NACCHO staff; the NACCHO Board of Directors; former NACCHO Interim Co-Executive Directors Laura Hanen and Dr. William Barnes; and new NACCHO Chief Executive Officer, Lori T. Freeman.
Sumner expressed the need for resources to equitably serve every LHD across the nation. He vowed to continue the work of outgoing NACCHO President Umair Shah and urged the audience to tell their public health stories to boost visibility and engagement.
The opening general session, "Unleashing the Power of the Public Health Workforce," was moderated by Brian Castrucci, MA, Chief Executive Officer of the de Beaumont Foundation. He discussed the need for clear and articulated workforce goals to address staff retention at local health departments. He called for a stronger system and recognition of creativity when addressing public health issues. Castrucci shared that 39% of the LHD workforce plans to leave by 2023; 22% of that group is predicted to seek other positions in the field while 78% is predicted to leave the field altogether. To address this, Castrucci suggested LHDs field the Public Health Workforce Interests and Needs Survey (PH WINS) and encouraged attendees to share and discuss results with staff.
Karen DeSalvo, MD, MPH, MSc, Professor of Medicine and Population Health at University of Texas at Austin Dell Medical School, expressed how epidemiology has shifted since Public Health 1.0. Dr. DeSalvo discussed the need to make structural changes, including modernizing the public health workforce. John Wiesman, DrPH, MPH, Secretary of Health at the Washington State Department of Health, discussed ways to implement succession planning. He described the importance of providing coaching and mentoring to employees, creating new higher-level positions to allow for promotions, and using employee-supervisor dialogues to set performance goals specific to an employees' development. The final speaker, Monica Valdes-Lupi, JD, MPH, Executive Director of the Boston Public Health Commission, shared how the PH WINS survey helped her department focus on improving communication between supervisory and non-supervisory staff. Valdes Lupi highlighted the importance of clear internal communication because, "in its absence, misinformation is a possibility." Additionally, she shared some low-cost tactics she has used to communicate across her large organization, including all-staff meetings, public monitors for announcements, weekly reports, flyers, and a suggestion box.
Castrucci closed the session by saying, "You will never have healthy communities until you have healthy agencies."
Attendees also mingled and toured the Exhibit Hall during the President's Welcome Reception and enjoyed a few networking events, including the NACCHO Member Connect Networking Session, "The Three A's of Pfizer RxPathways" Exhibitor Reception, and the Orasure Technologies, Inc. Hospitality Event.
Wednesday: Unleashing the Power of Policy
On Wednesday, NACCHO Chief Executive Officer Lori T. Freeman opened the day's general session, "Unleashing the Power of Policy," sponsored by CityHealth, by thanking the public health workforce and NACCHO staff for their continued efforts to improve health outcomes across the nation. She also introduced NACCHO's Senior Director of Information Technology Dennis Small, who presented the Nancy Rawding Employee of the Year Award to Dominic Puller, NACCHO IT Generalist.
The plenary featured a dynamic panel of experts. Catherine Patterson, MPP, Senior Program Officer at the de Beaumont Foundation, kicked off the conversation by explaining CityHealth's mission to provide LHDs and policymakers with evidence-based policy solutions. Patterson later introduced Colleen Bridger, MPP, Health Director of the San Antonio Metropolitan Health District, who discussed Tobacco 21, an initiative that advocates raising the legal smoking age to 21. She closed her speech by saying, "Policy is the buzz saw in your toolbox. You need to keep your blade sharpened for it to be effective and if you take your eye off it for one second, things can go terribly wrong."
Andre Quintero, Mayor of El Monte, CA, shared that his city is investing over $2.6 million on health and wellness initiatives to improve the health of its residents. Mayor Quintero highlighted his city's efforts in creating a healthy transportation system, enhancing land use and community design, and approving access to healthcare by partnering with five adjacent cities and health providers. Sarah Martin, PhD, MPP, MPH, Deputy Director of the City of Kansas City, Missouri Health Department, stressed that science alone can't make policy. She mentioned that data is only as good as the elected officials who are going to believe it and that various forms of effective marketing can help influence policy. Dr. Martin discussed the importance of public health professionals presenting themselves as credible, indispensable sources for elected officials by seizing more opportunities to testify, hand-deliver information, and talk directly to them.
Finally, Bechara Choucair, MD, Senior Vice President and Chief Community Health Officer at Kaiser Permanente, took the stage to discuss how his organization is building partnerships and investing millions of dollars in community health programs to improve health outcomes at the local level. He cited Kaiser's $200 million investment in their Thriving Communities Fund to preserve and expand affordable housing and their $2 million pledge to fund research focused on the prevention of firearm-related injuries and deaths. He stressed the importance of having patience when integrating policy into practice by saying, "Always think of policy as a marathon instead of a sprint."
Attendees also celebrated this year's award winners at the Grand Awards Ceremony and Reception—including over 29 Model Practices Award winners, seven Local Health Department of the Year awardees, four National Health Security Strategy awardees, and 52 Promising Practices Award winners.
Thursday Morning: Unleashing the Power of Local Public Health
The Thursday morning general session, "Unleashing the Power of Local Public Health," began with Freeman's state of the association address. She shared a personal public health success story that highlighted the Fairfax County Health Department's surveillance of a potential pertussis outbreak. She went on to discuss NACCHO's strategic plan and the organization's goals through 2022.
Laura Hanen, NACCHO Chief of Government Affairs, recognized the Tri-County Health Department and Phil Maytubby, Director of Public Health Protection for Oklahoma City County Health Department, as winners of the National Advocate of the Year Award. Jennifer Li, NACCHO Senior Advisor for Environmental Health, presented the Samuel J. Crumbine Consumer Protection Award for Excellence in Food Protection at the Local Level to Maricopa County Environmental Services Department.
The session featured speakers Nicole E. Alexander-Scott, MD, MPH, Director of the Rhode Island Department of Health and President of the Association of State and Territorial Health Officials (ASTHO) and Dr. Torrie Harris. Dr. Alexander-Scott discussed the ASTHO President's Challenge, a yearly initiative to improve the nation's health through the leadership of state and territorial public health officials and their organizations. This year's challenge focuses on building healthy and resilient communities. Dr. Alexander-Scott explained that ASTHO, NACCHO, and the U.S. Surgeon General will help health officials achieve the goals of the challenge by providing tools to help health officials mobilize community-led, place-based collectives that use an outcomes-driven, cross-sector approach to build stronger communities. She also noted that agencies should attract diverse investments from business leaders and policymakers, who can help communities transform conditions for better long-term living.
Dr. Harris discussed the major health challenges and inequities in New Orleans, which mostly affect black communities. She highlighted two of the department's programs: Healthy Start and FIT NOLA. She explained how Healthy Start is a pre- and post-natal health education program that provides support to low-income families, offers free baby supplies, and links parents to employment resources, individual and family counseling, and legal assistance. She also highlighted her department's FIT NOLA fitness and nutrition program, which aims to mitigate the burden of obesity and chronic disease.
Thursday Afternoon: Unleashing the Power of Payers to Improve Population Health
The final plenary, "Unleashing the Power of Payers to Improve Population Health," began with the presentation of the Maurice "Mo" Mullet Lifetime of Service Award. Carol Moehrle, District Director for Public Health—Idaho North Central District, presented the award to Rex Archer, MD, MPH, Director of Health for the Kansas City, Missouri, Health Department.
Robert Redfield, MD, Director of the Centers for Disease Control and Prevention (CDC), addressed conference attendees by stating a few of CDC's goals, including destigmatizing substance abuse, increasing vaccination rates, enhancing global health security, strengthening guidelines for prescribing drugs, and preventing and addressing foodborne illness.
He shared a personal story about how his son is struggling with substance abuse and encouraged the audience to look at the ways stigma is reinforced. He expressed that the medical community needs to be honest and transparent and accept responsibility for playing a part in the opioid epidemic. Dr. Redfield discussed the need to find alternative ways to treat chronic pain and educate the American public about prescribed opioids.
Dr. Redfield further explained the importance of vaccination, emphasizing that "vaccination is the best way to confront an infectious disease." He encouraged public health professionals to find innovative ways to increase vaccination rates for hepatitis B and C, HPV, and influenza.
Afterwards, Claude-Alix Jacob, MPH, Chief Public Health Officer at Cambridge Public Health Department in Massachusetts, took the stage to moderate the panel, which highlighted some of the most innovative payers and integrated health systems in the nation and their efforts to move beyond a clinical scope to achieve improvements in population health. Speakers included Ace Eversley, BS, Program Consultant at Aetna Foundation; Andrea Azuma, MS, Director of Community Health Improvement at Kaiser Permanente; and Val Slayton, MD, MPP, MBA, FACP, Regional Vice President of Health Services for Humana Senior Products. Eversley discussed Aetna's partnership with the National Association of Counties and the American Public Health Association on the Healthiest Cities and Counties Challenge, a competition with a $1.5 million prize. The challenge aims to improve measurable health outcomes and promote health, wellness, equity, and social interaction through practical, evidence-based strategies and multi-sectoral partnerships.
Following Eversley, Val Slayton shared Humana's Bold Goal initiative, which aims to improve the health of the communities it serves by 20% by 2020. Slayton explained how Humana identified which health conditions and barriers pose the greatest opportunity by analyzing data, engaging in conversations with the community, and bringing together thought-leaders to align on initiatives that are meaningful to the community. Slayton also discussed how Humana is dedicated to addressing social determinants of health such as food insecurity, accessible transportation, and clean and affordable housing. Finally, Andrea Azuma shared how Kaiser Permanente is forging resource connections to improve population health outcomes. She noted that at least four million of Kaiser's 12 million health plan members live at or below 250% of the federal poverty level. Azuma explained that the most pressing needs of Kaiser's members include food security, transportation, and housing. She stressed that addressing social, non-medical needs is a key element of core care strategies.
Ultimately, the conference provided participants with an opportunity to hear from national thought leaders, learn about successful and replicable public health practices from their peers, and gave attendees new resources and frameworks to help improve health in their communities. Save the date for NACCHO Annual 2019, July 9–11 in Orlando. For more about the conference, visit http://nacchoannual.org.