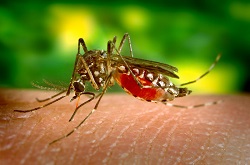 During the summer, mosquitoes can be a nuisance when trying to enjoy the warm weather. But with climate change and lack of surveillance funding, mosquitoes are developing into more than an irritating pest—instead they pose a major threat to public health in the United States.
Arboviral surveillance funding has decreased by nearly two-thirds in the past 13 years according to a new report, "Assessment of Arbovirus Surveillance 13 Years after Introduction of West Nile Virus, United States," authored by NACCHO staff in Emerging Infectious Diseases. Meanwhile, mosquito-borne illnesses have been spreading—a potential result of climate change and globalization [1].
Federal funding for arboviral surveillance began in 1999 after the emergence of West Nile Virus. Annual funding for the virus and other mosquito-borne illnesses has steadily decreased since 2006, reaching lows of $9.3 million in 2012 and in 2013, compared to a high of nearly $24 million in 2004 [2].
In addition to financial stress, arboviral surveillance systems are handling an increase in mosquito-borne diseases. As international travel becomes more common, the potential for the geographic spread of mosquitoes and mosquito-borne illnesses grows. Moreover, the rising temperatures and increased precipitation associated with climate change contribute to the expansion of arboviruses by growing habitable areas.
As a result of these factors, in 2012, the United States experienced the highest incidence of confirmed West Nile Virus neuroinvasive disease since 2003 and the highest number of confirmed deaths for any year thus far. Other arboviral diseases have also been expanding, including dengue and chikungunya. For example, California is anticipating the spread of dengue and chikungunya due to the invasion of two mosquito species that are known to carry the diseases. There are concerns that these mosquito populations will locally transmit the dengue and chikungunya from infected travelers [3].
As mosquito-borne diseases increase in incidence and decrease in funding, local health departments have to find innovative ways to battle the threat of mosquitoes. The following are examples of mosquito-borne diseases that local health departments should be aware of in order to improve prevention and response efforts.
West Nile Virus
West Nile Virus is the leading cause of domestically acquired arboviral disease in the United States [4]. In 2013, forty-seven states and the District of Columbia reported 2,469 cases of WNV disease [5].
Most people who acquire West Nile Virus do not show symptoms. However, about one in five people experience a fever, headache, body aches, joint pains, vomiting, diarrhea, or rash. Fatigue and weakness can last for months. Less than 1% of infected individuals develop a serious neurologic illness such as encephalitis or meningitis, and about 10% of those people will die [6].
The first case of West Nile Virus was discovered in Northern Uganda in 1937. The virus did not establish itself in North America until 1999, when a cluster of cases were found in New York City. Within three years, the disease spread to 44 states and the District of Columbia, reaching the West Coast [7].
In order to detect the existence of West Nile Virus in a community, many arboviral surveillance systems rely on residents to report dead birds. Mosquitoes can transmit the disease to birds, which often die of West Nile Virus. Therefore, bird deaths may indicate the prevalence of the virus [8].
There are no vaccinations or specific antiviral treatments available, making prevention efforts critical to combatting the spread of the illness.
Chikungunya
Chikungunya poses a significant threat to human health. The disease has sickened more than 900,000 people in 40 countries and territories in the Western Hemisphere. Chikungunya produces fever, joint and muscle pain, headache, lethargy, and rash. Though it is rarely fatal, some cases can lead to chronic pain and arthritis.
In July 2014, only seven months after chikungunya's recognition in the Western Hemisphere, the first locally acquired case of the disease surfaced in the continental United States, in Florida. By December 2014, 11 locally transmitted cases had been identified in Florida. In 2014, a total of 2,792 chikungunya virus disease cases were reported to ArboNET from U.S. states. Before this outbreak, an average of 28 travelers with chikungunya virus returned to the country each year.
Currently, the geographic ranges of Aedes aeqypti and Aedes albopictus – the mosquito species primarily responsible for spreading the chikungunya virus and dengue fever—includes the southeastern United States and limited parts of the Southwest. Aedes albopictus is also found further north along the East Coast, through the Mid-Atlantic States, and the lower Midwest. Currently, the type of chikungunya virus circulating in North America is associated with the less common mosquito, Aedes aegypti. However, if the virus were to mutate to prefer the more common mosquito Aedes albopictus, which has a wider geographic range, this could present a larger threat for the United States. This situation has already been seen in Brazil, where a more problematic strain of chikungunya spread easily by Aedes albopictus has been detected.
The combination of international travel and increasing geographic expansion of disease-carrying mosquitoes has set the stage for the introduction and spread of chikungunya to new areas. Since the disease is new to the Americas, most people are not immune, which means they can be infected and spread the virus to others. Currently, chikungunya is not a nationally notifiable disease, but cases can be reported to ArboNET, a national surveillance system. There is no vaccine or antiviral treatment for chikungunya. The only way to prevent chikungunya is to prevent mosquito bites.
Visit NACCHO's past blog post, "Rising Number of Chikungunya Cases Pose Significant U.S. Public Health Threat" for more information on the disease.
Dengue
Dengue virus was first identified in the 1950's in Africa and Asia. It is now being seen in almost all regions of the world.
The virus causes a disease that is characterized by a high fever accompanied by two or more of the following: a severe headache; severe eye pain; join pain; muscle and/or bone pain; rash; and/or mild bleeding. The person with this illness enters into a dangerous phase just as the fever begins to decline. Blood can begin to leak out of the small blood vessels, causing a failure of the circulatory system, shock, and raising the risk of death. Treatment by a physician is very important at this time.
Dengue was not common in the Caribbean or in North America until recently, as mosquito control programs have seen decreases in funding. The disease is spread via bites of two same species of mosquitoes that carry chikungunya.
Cases of disease have been rapidly spreading in recent years. However, almost all cases of dengue in the continental United States have been among people who became infected while traveling elsewhere. There was a small outbreak in southern Texas in 2005 and another in Key West, FL, in 2009, but those have been the exception. It is thought that the reason for no sustained transmission within the United States is that people have relatively little contact with the two vector species. However, there is no guarantee that this will always be the case, especially as temperatures continue to rise.
NACCHO will be publishing an issue brief on solutions to finance local mosquito programs in the coming weeks, so check the blog for updates.
For more information:
---