World AIDS Day, observed each year on December 1, is an opportunity for people worldwide to unite in the fight against HIV, show their support for people with HIV, and remember those who have died from an HIV-related illness. Started in 1988, World AIDS Day unites us in recognizing the progress we have made and the work to be done to eliminate HIV stigma and promote prevention, testing, and treatment.
The federal World AIDS Day 2020 theme is "Ending the HIV Epidemic: Resilience and Impact."
Check out the below resources and events to commemorate World AIDS Day 2020 in your communities! We will continue to update this page through December 1st as more resources become available.
Social Media Toolkit

A social media toolkit is now available from CDC.gov to help promote World AIDS Day at your health department or community organization. Additional resources aimed at stopping HIV stigma and promoting HIV testing, prevention, and treatment are available from the Let's Stop HIV Together campaign year-round.
Visit cdc.gov for sample messages and images to share on and prior to World AIDS Day on December 1.

Global Campaign Materials

The global World AIDS Day theme, hosted by UNAIDS, is "Global solidarity, shared responsibility" to emphasize that health crises such as COVID-19 and HIV exacerbate the challenges marginalized groups face.
Read more and access campaign materials by scrolling down on this page: UNAIDS World AIDS Day 2020



U=U and World AIDS Day Resources
World AIDS Day is a unique opportunity to draw attention to how HIV has changed. Check out Prevention Access Campaign's guide to learn about how your organization can promote Undetectable = Untransmittable (U=U), the life-changing, stigma-busting news that people living with HIV who are on treatment and have an undetectable viral load cannot sexually transmit HIV.
The guide, available here, includes sample social media posts, shareable graphics, recorded webinars, and more.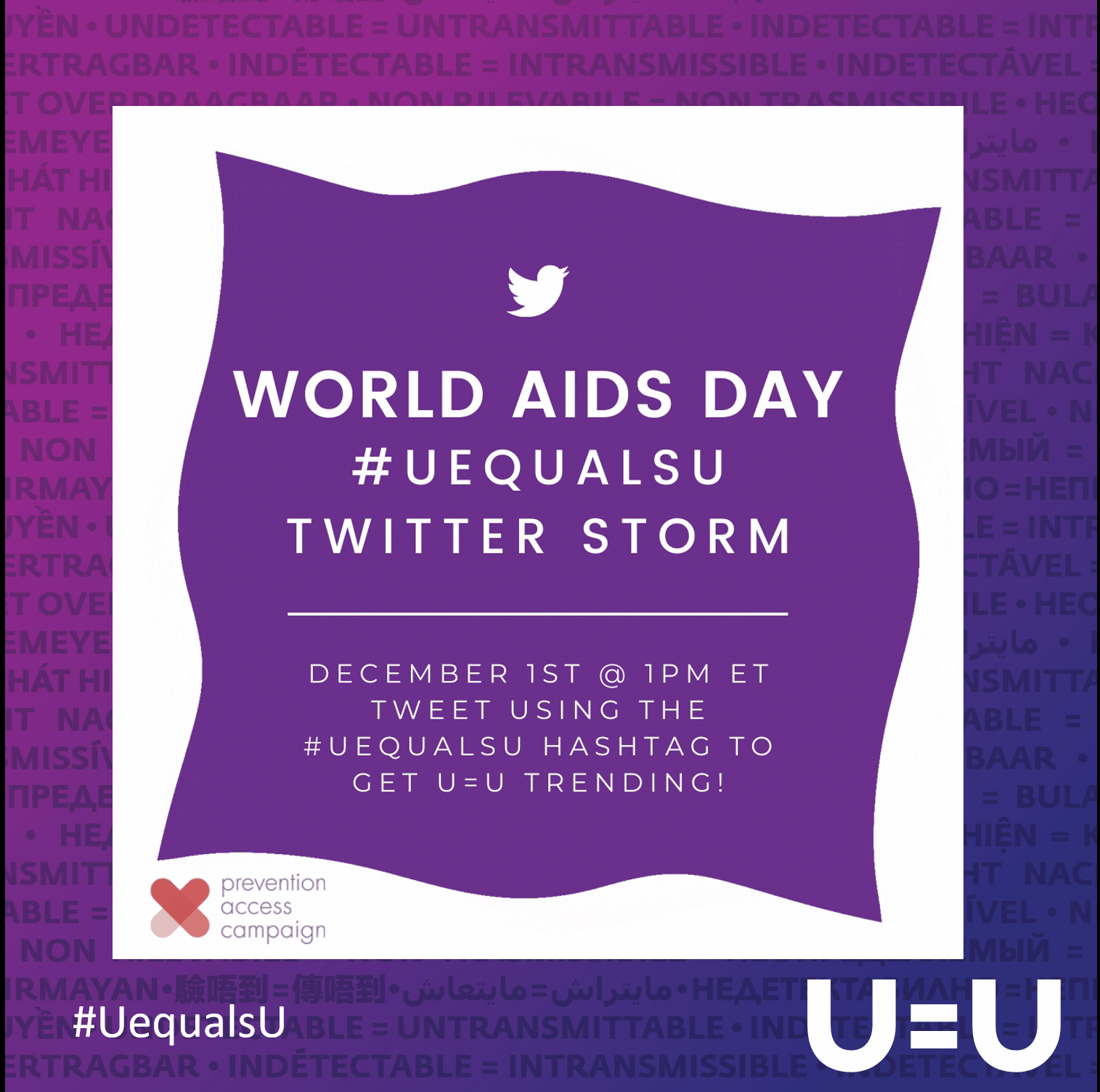 Webinars and Virtual Events


Prior to December 1st
On December 1st
World AIDS Day 2020 –A National Conversation will be presented virtually on December 1, 2020 beginning at 10 am PST / 1 PM EST at www.aidsmemorial.org. The event is free to the public. Through a distinguished list of guest speakers, video storytelling, and musical tributes, the forum allows people to come together and honor the lives lost, the survivors, the activism and the heroes from over the span of four decades and two horrific pandemics. Featured speakers as part of National AIDS Memorial forum include Dr. Anthony Fauci, Dr. David Ho, House Speaker Nancy Pelosi & Actor/AIDS Advocate Judith Light; mayors Keisha Lance Bottoms (Atlanta); Bill de Blasio (New York City); Robert Garcia (Long Beach) & Lori E. Lightfoot (Chicago); and activists Alicia Garza, Cleve Jones & Kristin Urquiza.


HHS Live with Leadership: On World AIDS Day, the Office of Infectious Disease and HIV/AIDS Policy (OIDP) will host a special Live with Leadership – World AIDS Day Edition conversation to learn directly from key HHS and community leaders about new and ongoing work furthering the Ending the HIV Epidemic (EHE) initiative. The Live with Leadership session will take place on Tuesday, December 1st from 2:00 pm – 3:00 pm ET. Please use this link to access the conversation on December 1, 2020.


HRSA World AIDS Day 2020 Virtual Commemoration Event: Through the art of storytelling, HRSA's World AIDS Day event on December 1st from 11:00 am- 12:00 pm EST will highlight the HRSA's role in the "Ending the HIV Epidemic: A Plan for America" initiative and recognize the 30th anniversary of the Ryan White HIV/AIDS Program as people with HIV share personal stories of resilience and the impact of the RWHAP on their lives. All HRSA recipients, national, state, local stakeholders, and federal employees are invited to attend this event.


NIH Forum - Science and Community: Working Together to Prepare for the Unexpected: The National Institutes of Health's Office of AIDS Research will host the NIH World AIDS Day Observance Science and Community: Working Together to Prepare for the Unexpected, with a focus on building the capacity of current and future generations of HIV researchers and advocates. The event will be virtual and conducted from 11:00 am – to 12:30 pm.

Mighty Real & Mighty Resilient - A Virtual World AIDS Day Event: Join the Human Rights Campaign, DC Health and the DC Mayor's Office of LGBTQ Affairs at 7 PM EST in celebrating the resilience of those living with HIV/AIDS, honoring the lives of those we have lost, and highlighting the impact of COVID-19 on the community.
Hosting an event? List it online and find more (virtual) events in your community and around the world by visiting the event directory on WorldAIDSDay.org.