Overview



Local health departments (LHDs) play an important role in the prevention, care, and treatment of HIV, sexually transmitted infections (STIs), and viral hepatitis. We have the tools and technologies to end the HIV epidemic, eliminate hepatitis B and C, and effectively prevent and treat STIs, but we must ensure that local public health has the funding to achieve these goals. For nearly a decade, LHDs have faced stagnant and declining budgets. In 2017, nearly one-third reported anticipating cuts in the next fiscal year.
The impact of these funding cuts impedes LHDs' capacity to promote and protect the health of their communities, especially as new challenges arise. For example, the opioid epidemic is fueling rising rates of injection drug use, which has contributed to the spread of infectious diseases. Between 2010 and 2015, the rate of acute hepatitis C infections nearly tripled. In 2015, injection drug use catalyzed an outbreak of HIV in Scott County, Indiana—home to just over 24,000 people—that led to more than 200 newly infected individuals, more than 90% of whom were co-infected with hepatitis C. Rates of syphilis, gonorrhea, and chlamydia are at 20-year highs and congenital syphilis increased by 87% between 2012 and 2016.
To assess the impact of experienced and potential budget cuts on local HIV, STI, and hepatitis programs, NACCHO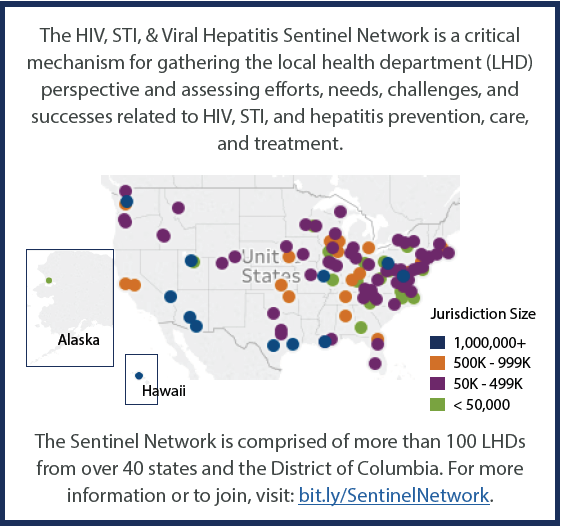 queried a convenience sample consisting of its HIV, STI, and Viral Hepatitis Sentinel Network members in October 2017. Of the 114 network members, 71 responded to the assessment for a response rate of 62%. Sentinel Network members, comprised of LHD staff working in HIV, STI, and viral hepatitis programs, are recruited through NACCHO's communications channels and via direct outreach to LHDs in geographic areas underrepresented in the Sentinel Network. Although not nationally representative, members work in LHDs of varied jurisdiction sizes and geographic locations and settings. Read on to learn more about what we found and check out our new fact sheet to learn more.
Results
Most LHDs reported stagnant or declining funding levels for HIV, STI, and viral hepatitis activities and services. Of particular concern, nearly one in five LHDs reported cuts to STI program budgets. This comes after years of chronic underfunding. But declining or stagnant program budgets are no new phenomenon; LHDs have experienced this for the last decade.
From 2008-2011, many LHDs reported budget cuts and few reported increases. According to a national survey conducted in 2013, 62% of LHDs reported cuts to their STI programs resulting in significant reductions in staffing and services. In recent years, the number of reporting cuts has tapered, though most LHD budgets have not increased. According to NACCHO's Forces of Change, in 2017, 23% of LHDs experienced lower operating budgets compared to the previous fiscal year and more than half reported stagnant funding. These funding cuts have an effect on LHD staffing and services.
For example, between 2008 and 2016, local public health experienced a 23% decrease in the LHD workforce. The Sentinel Network query provided insight into the current scope of staffing reductions, which have primarily affected public health nurses, outreach and education staff, and Disease Intervention Specialists (DIS).
Public Health Nurses. Public health nurses are an incredibly valuable component of the public health workforce, as they bridge clinical and public health. Nearly all LHDs (96%) employ public health nurses, who make up 19% of the entire LHD workforce.

Of LHDs reporting staff roles being eliminated or reduced, 69% reported reductions to their public health nurse workforce. This is problematic because the perspective public health nurses gain through direct relationships with patients, coupled with their knowledge of health and social sciences, enables them to effectively design and implement interventions to improve health at the individual, community, and population levels.
Outreach and Education Staff. Nearly half (44%) of LHDs reporting staff roles being eliminated or reduced experienced reductions to their community outreach and education staff. Outreach and education staff are essential to prevention strategies that reduce the stigma of communicable diseases, particularly HIV and STIs, and can be tailored to different populations, including those at increased risk for HIV and STIs and those not effectively reached with other public health promotion efforts. Outreach and education are critical to addressing the gaps in diagnosis, linkage to and engagement in care, and treatment of HIV, STIs, and viral hepatitis.
Disease Intervention Specialist. Disease intervention specialists (DIS) are the backbone of public health. Alarmingly, 38% of LHDs reporting staff roles being eliminated or reduced reported reductions in their DIS workforce. DIS conduct contract tracing and provide partner services that include the identification, notification, and referral to testing for sexual partners of individuals infected with HIV and other STIs. At a time when STI rates are increasing and the unique skillset of DIS is being recognized for its contribution to improving patient outcomes and community health, these cuts stand to have a negative impact on achieving our national HIV, STI, and viral hepatitis prevention and care goals.
In addition, when LHDs have to reduce or eliminate staff, this affects their capacity to deliver services. In fact, about one-third of LHDs that reported funding cuts, also reported having to reduce services or activities. Reductions in services were most likely to affect disease surveillance, STI partner services, HIV testing, and hepatitis B vaccination.
Conclusion
LHDs are the first line of defense in protecting the health and safety of their communities. After years of shrinking budgets, overstretched LHDs have been forced to reduce or eliminate essential and lifesaving health services and activities, and further cuts will undermine their ability to protect the public's health. At this pivotal moment, our nation needs strong and appropriately funded LHDs to confront new and persistent health challenges and to realize our abilities to end the HIV epidemic, eliminate hepatitis B and C, and successfully prevent and control STIs.
View our new fact sheet to learn more about this Sentinel Network Query. For more information or to sign up for the Sentinel Network, visit here.