Penn State Project ECHO (Extension for Community Healthcare Outcomes) has launched a COVID-19 ECHO series to inform health care providers and administration of the latest best practices in emergency preparedness and patient treatment for COVID-19.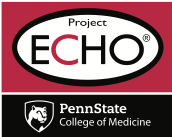 The goal of this series is to equip health care providers and administration with strategies to address challenges presented as a result of the novel coronavirus pandemic. Together, experts and providers will collaborate to discuss patient and clinic/hospital system cases and develop recommendations for care and/or improvement.
The program welcomes cases from registered participants that involve common clinical scenarios related to diagnosis and care as well as difficult, complex or challenging presentations of a clinic, hospital or patient management scenario.
Dates and times for future COVID-19 ECHO sessions will be sent to registered participants as they are scheduled and confirmed. Series sessions include:
8 to 9 a.m. April 2, 2020: Caring for opioid use disorder patients
8:30 to 9:30 a.m. April 3, 2020: Status of the pandemic and public health measures
9 to 10 a.m. April 4, 2020: Top COVID-19 questions and answers
8 to 9 a.m. April 9, 2020: Preventing burnout for COVID-19 care providers