Injury and Violence Prevention
Injury and Violence Prevention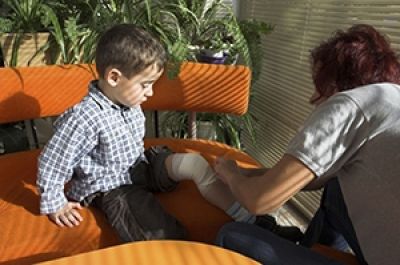 Injury is the leading cause of death for people between the ages of 1 and 45 in the United States, and millions more are injured and survive, only to then face life-long challenges. Injuries and violence affect everyone, and deaths from injury and violence tell only part of the story. Injury and violence prevention efforts aim to prevent unintentional injuries and violence, and to reduce their consequences.
Local health departments (LHDs) play an important role in coordinating the broader public health system's efforts to address the causes of injury and violence. LHDs are well suited to unite community partners to address the causes of injury- and violence-related inequities through policy, environment, and system change.
NACCHO, with support from the CDC, is pleased to announce a new funding round for the Implementing Overdose Prevention Strategies at the Local Level program. The application period is now live!
NACCHO will select up to fifteen (15) awards available through this funding opportunity. Each LHD may request up to $300,000 to support project activities.
This funding opportunity is open to LHDs operating in jurisdictions that meet the following requirements:
Drug overdose death rate at or above 28.3 per 100,000 or death count equal to or greater than 165.
Eligible jurisdictions by rate or count can be found by following these links. Statistics related to these criteria are drawn from the CDC WONDER database. If you believe these statistics to be in error, please reach out to the email below.
Jurisdictions currently receiving IOPSLL funding or that are directly funded by OD2A are not eligible to apply. LHDs that receive OD2A funds through their state are eligible.
If two or more LHDs cover the same jurisdictional county, only one will be awarded. LHDs are encouraged to work together on one application to serve their entire county and select one agency to submit the application and serve as a fiscal agent for the funds.
Review the RFA here.
Access the online submission platform here (free MyNACCHO account required).

Interested applicants can review the informational webinar held on August 4th, 2022. The recording can be reviewed here and the slides here. Another webinar will be held at 2:00 PM EST on Monday, August 29th. Register here.
If you have any questions, please email IVP@naccho.org.

NACCHO, with support from the CDC, is accepting applications to participate in our Health Equity and Overdose Prevention Mentorship Program. This will be the second iteration of our mentorship program and will include opportunities for local health departments (LHDs) to learn from peers, share experiences and exchange strategies for integrating health equity into drug overdose prevention and response work.

There are separate mentee and mentor applications; requirements and full details of the project are available in the respective RFAs as well as their linked deliverable schedules. NACCHO hosted an informational webinar on July 27, 2022, to review this funding opportunity, the recording can be reviewed here, along with the FAQs here. If you have any questions, please email IVP@naccho.org.

Applications must be submitted to NACCHO's Overdose Prevention Team at IVP@naccho.org by Friday, August 19, 2022, at 8:00 pm E.T. LHDs that would like our feedback in advance for a stronger application can submit it by Friday, August 12, 2022, at 8:00 pm E.T. Submissions after the final deadline, August 19, 2022, will not be considered.

NACCHO is seeking a consultant to conduct a cross site evaluation and program review of the Overdose Response Strategy (ORS) Pilot Projects. Over the past 4 years, 26 awards have been made in 14 states to implement overdose prevention projects with a cross-sector partnership between public safety and public health. This funding opportunity is for a consultant to conduct an evaluation of the pilot project initiative as a whole (not evaluations of individual site projects), including project status/sustainability, impact, partnerships, public safety engagement/participation, implementation, trends, and experience with technical assistance.
View the Request for Proposals for full details about this project. Applications must be submitted no later than 11:59 pm E.T. on August 17, 2022. Applicants may pose individual questions to NACCHO at any point during the application process by e-mailing Audrey Eisemann (aeisemann@naccho.org).

NACCHO's Injury & Violence Prevention (IVP) Program strengthens capacity of LHDs to effectively address the causes of injury and violence in their communities by creating learning opportunities, developing tools and resources, providing technical support, and facilitating peer exchange.
Community Health
Intersection of Suicide, Overdose, and ACEs
Learn about the intersection between suicide, overdose, and adverse childhood experiences.
Community Health
Intersection of Suicide, Overdose, and ACEs
The Injury and Violence Prevention team has developed several policies for topics such as:
Child Maltreatment Prevention
Firearm-Related Injury and Death Prevention
Graduated Driver Licensing
Injury and Violence Prevention
Medical and Recreational Cannabis and Cannabinoids
Motor Vehicle Safety Belts
Older Adult Fall Prevention
Opioid Epidemic
Suicide Prevention
Traumatic Brain Injury Prevention
Universal Motorcycle Helmet Laws
Youth Violence Prevention
You can find all of the policies and examples of letter to Congress, on the policies page.
To learn more about Injury & Violence Prevention, share LHD resources, or inquire about NACCHO's Injury & Violence Prevention portfolio, please contact us at info@naccho.org
Back to Top