Overdose, Injury, and Violence Prevention
Overdose, Injury, and Violence Prevention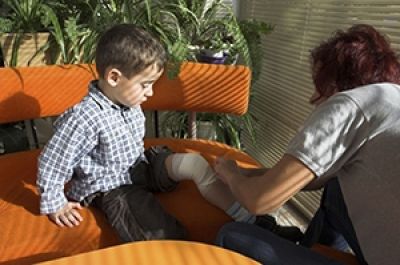 NACCHO's work spans the intersecting fields of overdose, injury, and violence prevention. From mitigating adverse childhood experiences and identifying and addressing crosscutting risk and protective factors to supporting the integration of health equity in drug overdose prevention and response strategies,
NACCHO recognizes injury and violence as public health issues and draws attention to the critical role that local health departments play in protecting and improving community health and safety.
Through our work with local communities, we elevate the need to address the historic and ongoing impacts of institutional and structural oppression and racism that shape generational health disparities and support community-driven solutions.
To see our current policy statements, visit the NACCHO policy page.
NACCHO and CDC are pleased to announce the Sustaining Peers in Emergency Departments (SPED) program. This funding opportunity provides an opportunity to sustain or expand a program to screen patients presenting in the emergency department for substance use and pair eligible patients with a peer recovery specialist (PRS) to assess the appropriateness of MOUD, other treatment, and/or harm reduction services and resources.
This funding is not available for jurisdictions looking to stand-up a new program to embed a PRS in an emergency department. Technical assistance will be limited in scope - jurisdictions must already have a program that they wish to sustain or expand upon and the experience and capacity to do so.
Full details of the project outline and requirements can be found in the Request for Proposals.
Access the online submission platform here (free MyNACCHO account required). Applications must be submitted no later than Monday, March 6, 2023, at 11:59 pm EST. Submissions after this deadline will not be considered.
If you have any questions, please email [email protected].
NACCHO, with support from the Centers for Disease Control and Prevention (CDC), is pleased to offer a funding opportunity for a skilled meeting planner and facilitator for a mid-size (50-100) 1-day in-person event to be held in Denver, CO the week of NACCHO's Annual 360 Conference from July 10-13th, 2023. This meeting will bring together grantees and partners from the Health Equity and Overdose Prevention Mentorship Program for the Health Equity Symposium. This is the second iteration of our mentorship program and includes opportunities for local health departments (LHDs) to learn from peers, share experiences and exchange strategies for integrating health equity into drug overdose prevention and response efforts. As part of this work, the Health Equity Symposium is a chance for the grantees to 1) share and celebrate their program and jurisdiction successes, challenges, and lessons learned, 2) network with one another, and 3) engage with new public health thought leaders to learn and discuss best practices and strategies for embedding equity into overdose prevention and response initiatives.
For additional background information on last year's Symposium structure and programming, please visit this microsite here. Please note that the selected consultant will be responsible for determining the most appropriate organization and structure for this year's in-person event, with input from NACCHO.
Applications are due by Friday, March 3rd, 2023 at 11:59 PM Eastern. Selections will be made on or around the week of March 13th, 2023 and the project period will run from the date of contract execution to 7/31/23. All necessary information regarding the project and application process may be found in this Request for Proposal (RFP). Applicants may pose individual questions to NACCHO at any point during the application process by e-mailing NACCHO's Overdose, Injury and Violence Prevention (OIVP) Team at [email protected].
NACCHO's Injury & Violence Prevention (IVP) Program strengthens capacity of LHDs to effectively address the causes of injury and violence in their communities by creating learning opportunities, developing tools and resources, providing technical support, and facilitating peer exchange.
The Injury and Violence Prevention team has developed several policies for topics such as:
Child Maltreatment Prevention
Firearm-Related Injury and Death Prevention
Graduated Driver Licensing
Injury and Violence Prevention
Medical and Recreational Cannabis and Cannabinoids
Motor Vehicle Safety Belts
Older Adult Fall Prevention
Opioid Epidemic
Suicide Prevention
Traumatic Brain Injury Prevention
Universal Motorcycle Helmet Laws
Youth Violence Prevention
You can find all of the policies and examples of letter to Congress, on the policies page.
To learn more about Injury & Violence Prevention, share LHD resources, or inquire about NACCHO's Injury & Violence Prevention portfolio, please contact us at [email protected]
Community Health Program
Stacy Stanford
Senior Director, Overdose, Injury, and Violence Prevention
JavaScript is required to reveal this message. / email hidden; JavaScript is required
Community Health Program
Amie Myrick
Senior Program Analyst, Injury and Violence Prevention
JavaScript is required to reveal this message. / email hidden; JavaScript is required
Community Health Program
Caroline Snyder
Director, Injury and Violence Prevention
JavaScript is required to reveal this message. / email hidden; JavaScript is required
Community Health Program
Camille Adams
Program Analyst, Injury and Violence Prevention
JavaScript is required to reveal this message. / email hidden; JavaScript is required
Community Health Program
Emily Winkelstein
Director, Overdose Prevention
JavaScript is required to reveal this message. / email hidden; JavaScript is required
Community Health Program
Francis Higgins
Senior Program Analyst, Overdose Prevention
JavaScript is required to reveal this message. / email hidden; JavaScript is required
Community Health Program
Lane Davis
Senior Program Analyst, Overdose Prevention
JavaScript is required to reveal this message. / email hidden; JavaScript is required
Community Health Program
Madeline Masog
Program Analyst, Overdose Prevention
JavaScript is required to reveal this message. / email hidden; JavaScript is required
Back to Top