Injury and Violence Prevention
Injury and Violence Prevention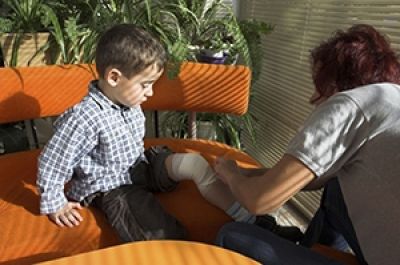 Injury is the leading cause of death for people between the ages of 1 and 45 in the United States, and millions more are injured and survive, only to then face life-long challenges. Injuries and violence affect everyone, and deaths from injury and violence tell only part of the story. Injury and violence prevention efforts aim to prevent unintentional injuries and violence, and to reduce their consequences.
Local health departments (LHDs) play an important role in coordinating the broader public health system's efforts to address the causes of injury and violence. LHDs are well suited to unite community partners to address the causes of injury- and violence-related inequities through policy, environment, and system change.
Request for Applications: Health Equity and Overdose Prevention Mentorship Program
The National Association of County and City Health Officials (NACCHO) is pleased to announce a funding opportunity to local health departments (LHDs) through a Request for Application (RFA) process. With support from the Centers for Disease Control and Prevention (CDC), NACCHO is offering a funding opportunity to participate in a new mentorship program with peer local health departments (LHDs) to learn, share experience, and exchange strategies for integrating health equity into drug overdose prevention and response work through the Health Equity and Overdose Prevention Mentorship Program. This mentorship program is designed to:
Pair LHDs that have experience in advancing health equity in their overdose prevention or response programs in key strategy areas (see below) with peer LHDs interested in receiving assistance, guidance, tools, and resources to start planning or expanding their jurisdiction's approach to health equity in drug overdose prevention and response.
Provide spaces for strategy and tool sharing around health equity practices that can be integrated into opioid prevention and response.
Establish a network of LHDs from across the country to be a resource for learning and connection around health equity and drug overdose
Improve NACCHO and CDC's understanding of how current health equity actions and strategies are being applied in local public health contexts
The project period of performance will be from contract execution, (approximately) November 2021 to May 31, 2022. Each selected mentee will receive funding up to $15,000 to complete the program and associated deliverables. The amount awarded to each selected mentor will be contingent on the number of eligible applications received (mentoring one (1) mentee: up to $15,000; mentoring two (2) mentees: up to $30,000). NACCHO plans to announce the selected agencies in or by the week of November 15, 2021. Funding estimates for the overall program and for individual projects may change.
There are separate mentee and mentor applications; requirements and full details of the project are available in the respective RFAs. Applications must be submitted to NACCHO's Overdose Prevention Team at jakuffo@naccho.org by Friday, November 5th, 2021 at 8:00pm ET. Submissions after this deadline will not be considered.
Interested?

NACCHO hosted an informational webinar on this funding opportunity--view the webinar recording here. A list of frequently asked questions (FAQs) can be found here. For questions, contact Jasmine Akuffo at jakuffo@naccho.org.

NACCHO's Injury & Violence Prevention (IVP) Program strengthens capacity of LHDs to effectively address the causes of injury and violence in their communities by creating learning opportunities, developing tools and resources, providing technical support, and facilitating peer exchange.
Community Health
Intersection of Suicide, Overdose, and ACEs
Learn about the intersection between suicide, overdose, and adverse childhood experiences.
Community Health
Intersection of Suicide, Overdose, and ACEs
The Injury and Violence Prevention team has developed several policies for topics such as:
Child Maltreatment Prevention
Firearm-Related Injury and Death Prevention
Graduated Driver Licensing
Injury and Violence Prevention
Medical and Recreational Cannabis and Cannabinoids
Motor Vehicle Safety Belts
Older Adult Fall Prevention
Opioid Epidemic
Suicide Prevention
Traumatic Brain Injury Prevention
Universal Motorcycle Helmet Laws
Youth Violence Prevention
You can find all of the policies and examples of letter to Congress, on the policies page.
To learn more about Injury & Violence Prevention, share LHD resources, or inquire about NACCHO's Injury & Violence Prevention portfolio, please contact us at info@naccho.org
Back to Top