Chest/Breastfeeding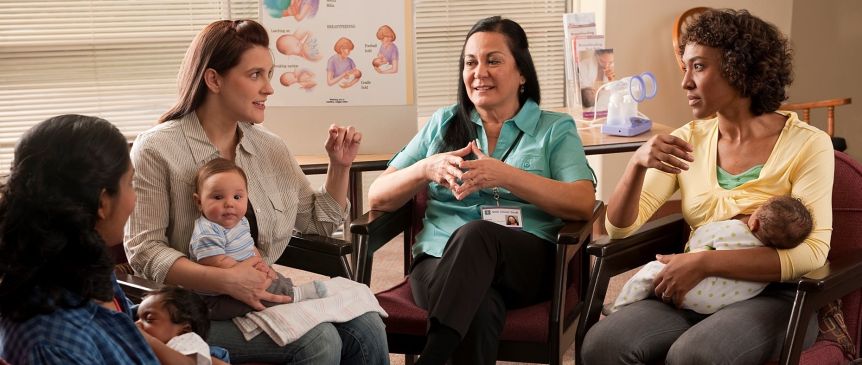 NACCHO actively supports local approaches to chest/breastfeeding protection, promotion, and support. NACCHO is currently implementing the Reducing Breastfeeding Disparities through Continuity of Care project to develop a national Continuity of Care (COC) blueprint with national partners, provide targeted technical assistance to CDC REACH grantees in COC, and funding Continuity of Care community partnership activities. This project also includes identifying best practices to improve the infant and toddler nutrition landscape within the first 1,000 days after conception.

Through webinars, ongoing technical assistance, and success stories, NACCHO shared lessons learned and effective strategies for local level implementation. NACCHO continues to provide training and technical assistance to local health departments and other community-based organizations to advance community support and continuity of care.

Continuity of Care in Breastfeeding Support: A Blueprint for Communities
The Continuity of Care in Breastfeeding Support: A Blueprint for Communities

The Blueprint, developed with a public health lens, aims to increase local capacity to implement community-driven approaches to support chest/breastfeeding, centered on the needs of populations disproportionately impacted by structural barriers that lead to low rates of breastfeeding. The goal of this resource is to ensure that chest/breastfeeding support services are continuous, accessible, and coordinated, and that community spaces are consistently supportive of chest/breastfeeding families. The blueprint is intended for any local-level organization and individual that interacts with pregnant and postpartum families.

To download the Blueprint go to http://www.breastfeedingcontinuityofcare.org/blueprint


Current and Recent Projects
Community Partners Implementing the Blueprint: Continuity of Care in Breastfeeding Support Cohort II
With support from the Centers for Disease Control and Prevention, Division of Nutrition, Physical Activity, and Obesity (CDC/DNPAO), NACCHO selected seven communities to strengthen community lactation support through the implementation of the Continuity of Care in Breastfeeding Support: A Blueprint for Communities from November 2022 to July 2023. The purpose of this project is to support the implementation of Continuity of Care (CoC) strategies by local-level organizations among oppressed communities with historically low rates of chest/breastfeeding.

For more information, please visit http://www.breastfeedingcontinuityofcare.org/implementations.

Early Childhood Nutrition
In 2022, NACCHO hosted three in-person regional convenings with a total of 51 multisector professionals within the local health system to further investigate and identify best practices and solutions to improve the first 1,000 days of nutrition infrastructure in historically neglected communities. In addition, a virtual national stakeholders' convening was hosted, to understand how national organizations can support the community nutrition infrastructure. Click to view Improving Infant and Young Child Nutrition during the first 1,000 days in Communities of Color summary report and review the convenings' lessons learned.

To watch the recording of the webinar that launched the report and the culturally responsive nutrition materials, click HERE.
To view the Webinar Resource Guide, click HERE.
NACCHO has also been part of My Plate National Strategic Partners, and has been supporting CDC and USDA to promote chapter 2 of the Dietary Guidelines for Americans, dedicated to Infants and Toddlers. NACCHO has co-created culturally diverse nutrition materials for infants and toddlers based on the Dietary Guidelines with different communities (African American, Chinese, Latinx, and Vietnamese).

The first set of nutrition materials toolkits, including educational handouts with recipes, a nutrition assistance resource directory, and social media posts can be accessed here:
Webinar: Breastfeeding Champions as Community Changemakers
Join us on April 11, 2023, at 1:00 PM ET for the seventh webinar of the 8-part Every Step of the Way through the 1,000 Days series. This webinar will focus on Recommendation 7 of the Continuity of Care in Breastfeeding Support: A Blueprint for Communities.
This session will discuss Health Advocacy and the Local Breastfeeding Champion Role of identifying and engaging key stakeholders to identify and help remove structural barriers to chest/breastfeeding within systems, organizations, and the community.
Pre-register at: https://bit.ly/CoCWebinar7
Latest Breastfeeding News
We are currently planning activities for this year. Stay tuned by joining our emailing list. To subscribe, please log-in to your My NACCHO account. If you do not have a "My NACCHO" account you can sign up by clicking here.
Once logged on click on "My Subscriptions" in the left navigation menu
Check the box for "Breastfeeding in the Community"
Click "Save" at the bottom of the page
To contact us, please email [email protected].
Back to Top