Project Public Health Ready (PPHR)
Project Public Health Ready (PPHR)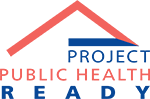 In collaboration with the Centers for Disease Control and Prevention, Project Public Health Ready (PPHR) is a criteria-based training and recognition program that assesses local health department capacity and capability to plan for, respond to, and recover from public health emergencies. PPHR aims to protect the public's health and strengthen the public health infrastructure by equipping local health departments with sustainable tools to plan, train, and exercise using a continuous quality improvement model.
Since 2004, more than 500 LHDs have been recognized as meeting all the PPHR requirements individually or working collaboratively as a region. For more information about pphr, email pphr@naccho.org.
For more information on PPHR, or to contact the PPHR team, email PPHR@naccho.org.
Back to Top