Intersection of Suicide, Overdose, and Adverse Childhood Experiences
Intersection of Suicide, Overdose, and Adverse Childhood Experiences
The intersection of suicide, overdose, and adverse childhood experiences (ACEs) is an exceedingly critical area in the field of public health. The relationship between these three issues is complex, as they share overlapping risk and protective factors and can lead to harmful social and behavioral health outcomes.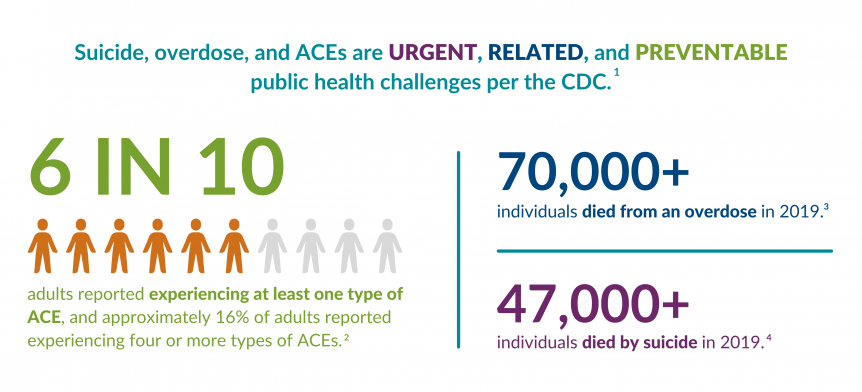 Such outcomes can affect the mental, physical, and emotional health of individuals, families, and communities across generations. The development and implementation of comprehensive strategies that aim to reduce risk factors and enhance protective factors may help prevent and mitigate future harms.


This webpage will serve as a resource hub on this issue, providing information, resources, and tools for local health departments seeking to build their capacity to address these converging epidemics within their own communities.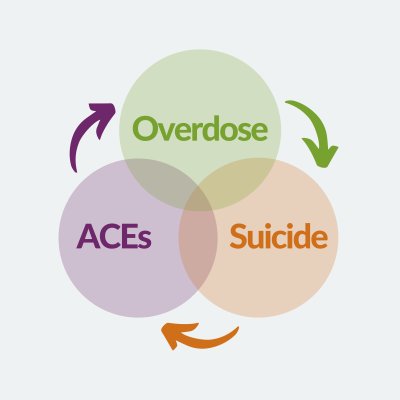 Public Health Infrastructure and Systems
Stacy Stanford
Director, Public Health Transformation
JavaScript is required to reveal this message. / email hidden; JavaScript is required
Programs
Caroline Snyder
Senior Program Analyst
JavaScript is required to reveal this message. / email hidden; JavaScript is required
Community Health Program
Zinat Mohamed
Program Analyst
JavaScript is required to reveal this message. / email hidden; JavaScript is required
Programs
Jasmyn Rudd
Senior Program Assistant
JavaScript is required to reveal this message. / email hidden; JavaScript is required
References
1. United States, Centers for Disease Control and Prevention, National Center for Injury Prevention and Control. (n.d.). Urgent, Related, Preventable: Adverse Childhood Experiences, Overdose, and Suicide. Retrieved 2021, from https://www.asam.org/docs/defa...
2. Merrick MT, Ford DC, Ports KA, et al. Vital Signs: Estimated Proportion of Adult Health Problems Attributable to Adverse Childhood Experiences and Implications for Prevention — 25 States, 2015–2017. MMWR Morb Mortal Wkly Rep. 2019;68(44):999-1005. doi:10.15585/mmwr.mm6844e1
3. Hedegaard, M.D., H., & Spencer, M.P.H., M. R. (2021, March). NCHS Data Brief: Urban-Rural Differences in Drug Overdose Death Rates, 1999-2019 (Rep. No. 403). Retrieved April, 2021, from U.S. Department of Health and Human Services website: https://www.cdc.gov/nchs/data/...
4. WISQARS (Web-based Injury Statistics Query and Reporting System)|Injury Center|CDC. Accessed March 26, 2021. https://www.cdc.gov/injury/wisqars/index.html
Back to Top