Medical Reserve Corps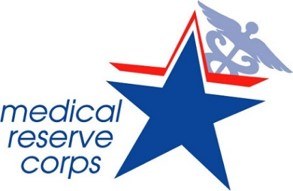 The Medical Reserve Corps (MRC) is a national network of local volunteer units who engage their local communities to strengthen public health, reduce vulnerability, build resilience, and improve preparedness, response, and recovery capabilities.
NACCHO works in partnership with the Department of Health and Human Services, Assistant Secretary for Preparedness and Response (ASPR), Medical Reserve Corps Program Office to:
Increase awareness and understanding of the Medical Reserve Corps (MRC) program;
Promote, support, and build capacity within the MRC network;
Enhance cooperation between the MRC Program Office and local/state/federal authorities to support and increase MRC capacities at the local level; and,
Expand the efforts and capabilities of local MRC units to support their community-based public health, preparedness and response initiatives.
For more information, visit the ASPR MRC Program Office Webpage.
The NACCHO MRC Team is excited to release the 2019 MRC Deployment Readiness Guide, which includes a suite of new deployment readiness resources for MRC unit leaders and volunteers. Each of the deployment readiness resources is listed below with a description:
Volunteer Management:

Volunteer Tier Level Recommendations - The MRC volunteer tier levels were developed to identify national standards for MRC volunteers based on emergency response training and experience. This tier structure is adapted from an original structure developed for Virginia MRC units and can be modified based on your unit's needs. Find the full MRC tier structure on page 9 of the Deployment Readiness Guide.
Deployment Readiness Checklist for Unit Leaders - The checklists cover all three phases of deployment and include a non-exhaustive yet comprehensive list of deployment activities including administration, training, equipment, response operations, and medical/safety activities. Examples and resources are also listed throughout the document. Find the Deployment Readiness Checklist on page 10 of the Deployment Readiness Guide.

Volunteer Capabilities

Updated MRC Core Competencies Training Plan – The updated training plan includes updated training courses and resources with no changes to the core competencies themselves. The new training plan also includes corresponding tier levels and course durations per recommended training. Learn more about the updated MRC Core Competencies Training Plan in the Deployment Readiness Guide or on MRC TRAIN.
Volunteer eLearnings (2) – The MRC eLearnings: 1) Pre-deployment and 2) Deployment/Post-deployment, were developed for MRC volunteers to develop foundational knowledge of what to expect before, during, and after deployments. Visit NACCHO University or MRC TRAIN to access the eLearnings from your laptop or mobile devices. The MRC TRAIN Pre-deployment course number is 1086867 and the Deployment/Post-deployment course number is 1086868.

Unit Capabilities

Mission Sets – Response Types (14) – The term 'mission set' describes a scalable response and recovery capability for MRC units and volunteers that is organized, developed, trained, and exercised prior to an emergency or disaster for local, state, and/or regional deployment purposes. All the MRC mission sets and accompanying resources can be found in the Deployment Readiness Guide. NACCHO's Mission Set Template is available to download here.
NACCHO appreciates the contributions received to develop these resources and recognizes members of the NACCHO MRC Advisory Group and 7 MRC units that served as pilot sites for the NACCHO MRC Deployment Readiness project. For more information on the pilot sites project, see the Deployment Ready MRC FactSheet, below.
The 2017 Network Profile of the MRC report presents the newest data on Medical Reserve Corps unit funding, partnerships, composition, activities, and capabilities. These data were collected from a survey administered in spring 2017. A total of 769 units responded to the survey for a response rate of 82%. Thanks to all who made the study a success!
Public Health Preparedness Program
Katherine Deffer
Senior Program Analyst
JavaScript is required to reveal this message. / email hidden; JavaScript is required
Public Health Preparedness Program
Kamya Raja
Program Analyst, MRC
JavaScript is required to reveal this message. / email hidden; JavaScript is required
Public Health Preparedness Program
Crystal Young
Senior Program Assistant
JavaScript is required to reveal this message. / email hidden; JavaScript is required
Back to Top